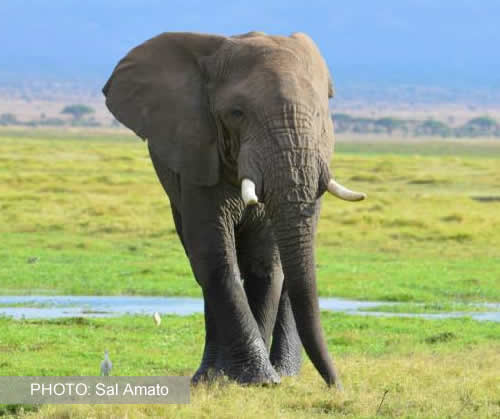 Today France became the first European country to destroy ivory stocks and has now joined an increasing number of countries to publicly demonstrate that live elephants are more valuable than dead ivory.
Three tons of confiscated ivory tusks and carved trinkets were crushed in Paris at the Champs de Mars near the Eiffel Tower. The event is the result of efforts led by French NGO Robin des Bois, which sent the government an official request to destroy the ivory stockpile in July 2013.
Although the three tons was not France's entire stockpile, it is a welcome start. Philippe Martin, France's minister for ecology, durable development and energy, told The Guardian that all ivory seized in France in future would be destroyed, apart from samples kept for scientific or educational purposes and those items that might help trace traffickers.
"The destruction of illegal ivory has become indispensable in the fight against trafficking of threatened species. It's a firm message that we are sending to the dealers who are threatening the survival of the elephant in Africa."
The growing social stigma associated with ivory is making it difficult for the pro-trade lobby to justify a position that seems woefully outdated, as the public becomes increasingly informed about the links between wildlife trafficking, transnational organized crime, regional instability — and terrorism.
Even major ivory consumers, notably mainland China and Hong Kong, have joined in the burgeoning movement against ivory.
The Hong Kong government announced on January 23 that it would incinerate 30 tons (28 tones) of its 36-ton confiscated ivory stockpile in installments over a one-to-two year period, starting in the first quarter of 2014.
On January 6, China crushed 6.1 tons of its 100 tons or so of ivory, less than two months after the U.S. destroyed its six-ton ivory stockpile. On Friday, 21 June 2013, the Philippines destroyed its five ton stockpile of confiscated elephant tusks at a ceremonial event showing the country's commitment to ending the blood ivory trade. And Gabon demonstrated on June 27, 2012, that it is committed to taking action against illegal wildlife trade by publicly burning more than five tons ivory.
Last week, Education for Nature-Vietnam released a statement calling for the destruction of the country's 25-ton stockpile of confiscated ivory.
---
Comments
comments