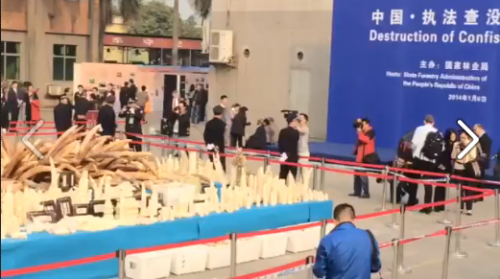 On January 6, 2014, it actually happened: China destroyed just over six tons of confiscated ivory, comprised of carved trinkets and whole tusks.
Although originally announced as an "ivory burning", it was decided that the ivory would be crushed instead, presumably to reduce air pollution. It was also decided that only ivory, not "other wildlife products" such as tiger and leopard skins, would be included. For organizations and citizens who have been campaigning for China to do something to acknowledge the seriousness of the ivory trade, today's event was welcomed and supported in varying degrees of optimism.
The event was a huge hit on Chinese social media, with more than 12,000 shares on Weibo in just six hours.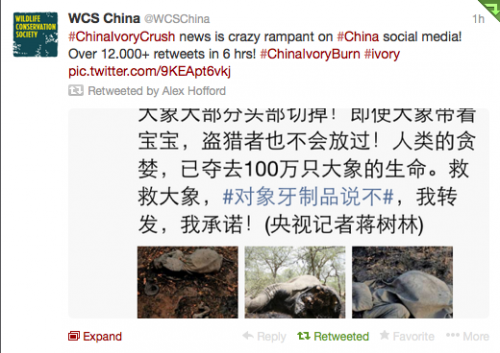 Of course, the spectacle had its critics — and rightly so. China has proven unable or unwilling (or both) to properly regulate its internal ivory trade. The acquisition of 60 tons of ivory in the CITES-approved sale in 2008 accomplished zilch for elephant conservation. It merely whetted the Chinese appetite for ivory — which now claims an estimated 30,000 elephant lives annually. China's ivory event will be written off as an empty publicity stunt if it is not followed by action, such as meaningful prosecutions for ivory — and other wildlife — crimes.
Burning ivory, though a powerful sight, is not an ideal method to destroy ivory, and crushing ivory is controversial because it does not render the ivory useless. Alex Hofford, Hong Kong-based journalist and spokesperson for AquaMeridian Conservation and Education Foundation, warns that "ivory stud earrings that retail for HK$480 a pair in shops on Hollywood Road" in Hong Kong are smaller than the gravel created at the U.S. ivory crush event it Denver. Hofford wrote in the South China Morning Post that after being crushed, the ivory still needs to be incinerated, so that it cannot be used again.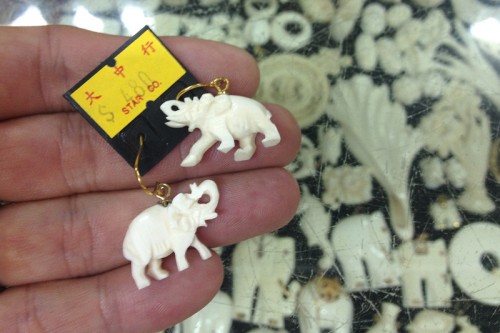 When compared the massive ivory stocks in China's possession, six tons seems ridiculous. But, it is in fact progress and I applaud the effort. China is now the third country in less than a year, after the Philippines and United States, to step forward and publicly rid itself of (at least some) wildlife contraband. France announced that it will follow suit.
Who's next?
---
Comments
comments