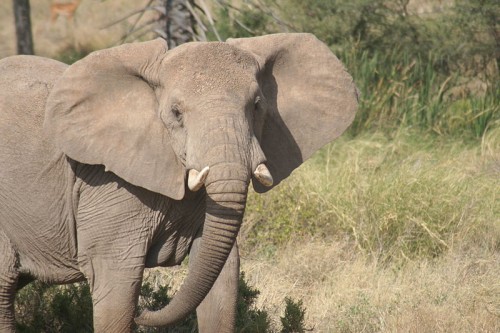 The United States Fish and Wildlife Service has announced that six tons of confiscated ivory currently held in Denver, Colorado, will be destroyed on November 14, 2013 (rescheduled from October 8) as part of a strategy to focus attention on the global wildlife trafficking crisis.
The U.S. stockpile includes raw and carved whole tusks, smaller carvings, and other elephant ivory items. Since ivory is very resistant to destruction — for example, burning ivory does not actually destroy it — the stockpile will be crushed.
"The ivory 'crush' is part of a series of upcoming coordinated actions that will spotlight the rising tide of poaching and trafficking that is threatening wild populations of elephants, rhinoceros and other iconic species – and strengthen global efforts to crack down on these criminal activities."
In order close loopholes that "currently make it easier for criminals to smuggle ivory and other wildlife products in violation of U.S. and international law", the USFWS also plans to propose changes to existing regulations and policies.
An estimated 25,000 — 30,000 African elephants are being killed annually to feed a renewed demand for ivory, mainly from China. A complicated array of ivory trade loopholes has paved the way for traffickers to launder elephant tusks and grow this deadly market.
Annamiticus fully supports the U.S. decision to destroy its ivory stockpile. We encourage other governments to do the same with their own ivory stockpiles.
---
Comments
comments