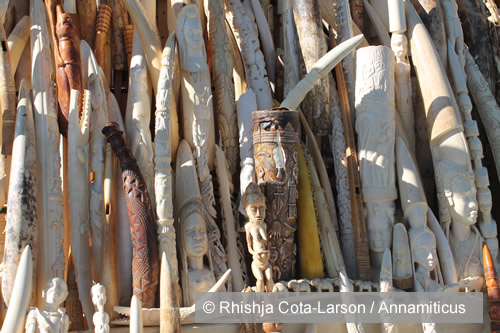 France has joined the growing international movement to close down ivory trafficking and has announced that its three tons of confiscated ivory will be destroyed.
Speaking at the Africa-France peace and security summit at the Elysée Palace, President Francois Hollande said that buying ivory must be "a clearly punishable act" and that France would implement increased penalties for illegal trade in ivory and other endangered species parts. He also called for standardized criminal penalties for wildlife trafficking across Europe.
It is difficult to dispute claims that ivory trafficking is a threat to the stability of African nations. The May 2013 slaughter of 26 elephants at Dzanga-Ndoki National Park, a World Heritage Site in the Central African Republic (CAR), is believed to be the work of the Seleka militia. This is the same rebel coalition that prompted France's deployment of 1,600 personnel to support African Union troops in the Central African Republic this month.
The Seleka militia is not the only armed rebel group to be linked to Africa's elephant crisis. Terrorist operations such as the Lord's Resistance Army in Uganda, the Janjaweed in Sudan, and Al-Qaeda and Al-Shabaab allegedly receive funding from the ivory trade.
Annamiticus supports France's decision to destroy its ivory stockpile. We encourage efforts to devalue ivory, stop the demand, and close down the trade.
---
Comments
comments