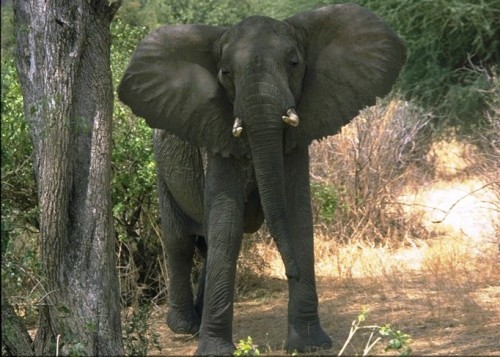 France has joined a growing list of countries that are saying NO to the ivory trade and will crush three tons of its seized ivory on February 6, 2014.
French NGO Robin des Bois has taken the lead in urging its government to destroy the ivory stocks and sent an official request sent to the French Minister of Ecology on July 18, 2013. Robin des Bois notes that "while the destruction of drugs or counterfeit money usually happens immediately after government seizure, ivory is conserved, as if the French government hopes to one day put it back on the market" and says that the entire stockpile could be as large as ten tons.
Earlier this week, Education for Nature-Vietnam released a statement calling for the destruction of the country's 25-ton stockpile of confiscated ivory. This followed the January 23 announcement by the Hong Kong government to incinerate 30 tons (28 tones) of its 36-ton confiscated ivory stockpile in installments over a one-to-two year period, starting in the first quarter of 2014.
On January 6, China crushed 6.1 tons of its 100 tons or so of ivory, less than two months after the U.S. destroyed its six-ton ivory stockpile. On Friday, 21 June 2013, the Philippines destroyed its five ton stockpile of confiscated elephant tusks at a ceremonial event showing the country's commitment to ending the blood ivory trade. And Gabon demonstrated on June 27, 2012, that it is committed to taking action against illegal wildlife trade by publicly burning more than five tons ivory.
Why destroy ivory? Robin des Bois lists six reasons to destroy stockpiled ivory:
Show the country's determination to fight against ivory related crime.
Avoid theft or misappropriation of seized ivory.
Eradicate any temptation for speculation of ivory trade awaiting the possibility of reopening legal ivory trade.
Demonstrate solidarity with African and Asian countries fighting against poaching.
Join in the recent movement of voluntary destruction.
Be consistent with destruction procedures of other seized substances and articles (drugs, medicines, Chanel bags or counterfeit Lacoste shirts).
Annamiticus fully supports the destruction of ivory stockpiles and a complete ban on all ivory trade.
---
Source: Charlotte Nithart, Robin des Bois
Comments
comments