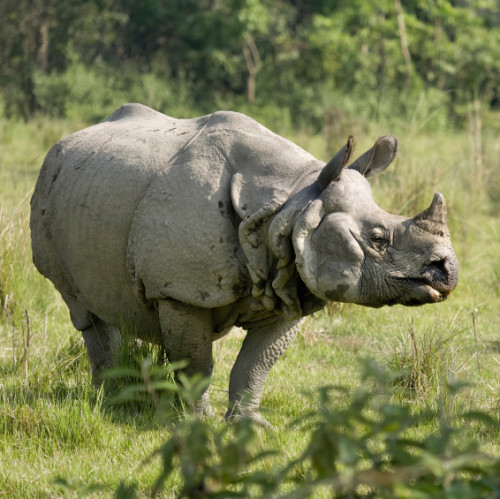 Wonderful news from Nepal: Two back-to-back calendar years of zero rhinos killed for their horns.
Nepal is home to the greater one-horned rhino (Rhinoceros unicornis), which is found in Chitwan National Park, Bardiya National Park and Sukhlaphanta National Park. The country's last recorded rhino poaching incident occurred in on May 2, 2014, according to the Himalayan Times.
Nepal's success is the result of a multi-pronged strategy – a strategy which does *not* include speculating on rhino horn trade nor does it include rhino trophy hunting.
The country is a shining example of what can be achieved with strong political will combined with teamwork at every level. Cooperation among the Nepal Army, National Park staff, Nepal Police, national and international NGOs – and the inclusion and involvement of local communities living in and around protected areas – all add up to a formidable barrier against poachers and would-be rhino horn traffickers.
Another tactic that sets Nepal apart is its active use of INTERPOL channels, tenacious pursuit of wildlife criminals, and meaningful prison sentences.
For example, in December 2013, Nepal issued an INTERPOL Red Notice for rhino horn trafficker Rajkumar Praja. Praja was convicted in absentia and sentenced to 15 years in prison, after Nepalese authorities dismantled a rhino horn trafficking network earlier that year. Thirteen months later – in January 2015 – Praja was arrested in Malaysia, where he was found trying to use a fake passport. He was extradited to Nepal.
"What we have achieved with the arrest of Rajkumar Praja is a testament to how law enforcement agencies can utilize INTERPOL resources to share information and coordinate beyond national boundaries to combat transnational organized crime," said DIGP Hemant Malla Thakuri, Director of the Nepal Police Central Investigation Bureau.
A 2011 census tallied 534 greater one-horned rhinos in Nepal, up from 435 in 2008. The Department of National Parks and Wildlife Conservation (DNPWC) is expected to release updated population figures this year.
---
Comments
comments