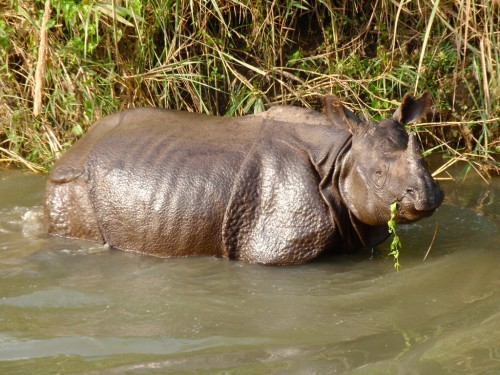 Disconcerting news from Nepal: Economic superpower China has asked for a pair of rhinos and it seems struggling Nepal has no choice but to oblige.
UPDATE July 10, 2016: Nepal cabinet approves "gift" of *two* pairs of greater one-horned rhinos to China. Video below:
The unfortunate pair of greater one-horned rhinos will be "selected" from Chitwan National Park, home to 605 of Nepal's total population of 645 rhinos. Although listed under CITES Appendix I, the export of greater one-horned rhinos (Rhinoceros unicornis) is allowed under Article III of the Convention, as long as the exporting and importing Parties agree that conditions outlined under Regulation of Trade in Specimens of Species Included in Appendix I are met.
China requested that the rhinos be "gifted" as part of a deal to provide "financial and technical assistance" for the proposed Forensic Science Laboratory in Bhaktapur and "assist in establishing an international center on community forests", according to The Kathmandu Post. In addition, China has apparently agreed to Nepal's proposal to "minimize the environmental impact" of upgrading the Tatopani-Khasa and Rasuwagadhi-Kerung road sections. MyRepublica.com reported that Zhang Jianlong, State Forestry Administration of China, and Nepal's Minister for Forests Agni Sapkota discussed "preserving forests and biodiversity" during a meeting earlier this month.
"Nepal and China have agreed to conserve wildlife and forests along the Nepal-China border and combat cross border illegal trading of wild animals and forest products."
It will indeed be interesting to note which organizations and/or groups will facilitate the capture, transport, and delivery of these two four wild rhinos to — what is hopefully not, but probably is — a concrete cell.
Given the appalling conditions which most of China's captive animals must endure, the future of this pair of these four greater one-horned rhinos seems bleak.
---
Comments
comments