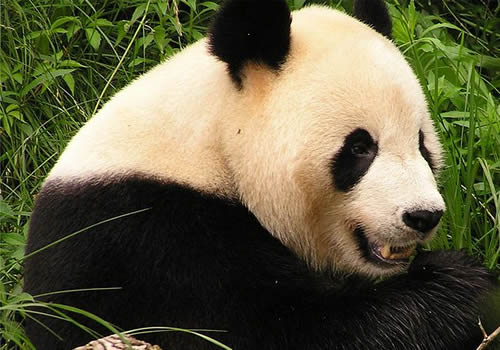 Rather than allocate funds for its own imperiled species such as Sumatran rhinos, Malayan tigers and tapirs, Borneo pygmy elephants, turtles and tortoises, orangutans, sun bears, and pangolins (just to name a few), the Malaysian government has announced plans to take on a pricey "loan" of two pandas from China.
In addition to the investment required for building a suitable panda enclosure and acquiring (or growing) special food sources, "panda loans" generally carry a hefty price tag for yearly upkeep. The pandas will reside in Malaysia for ten years, at a cost of at least RM20 million (US $6.2 million), according to Free Malaysia Today.
The pandas will require a specially-constructed "air-conditioned sanctuary" since Malaysia's tropical climate is unsuitable for this species.
Update 04/16/2013: The two panda cubs from China — Feng Yi (female) and Fu Wa (male) — will be brought to Zoo Negara in Malaysia as early as December this year, six months ahead of schedule, according to The Star.
Malaysia's Natural Resources and Environment Ministry said via The Star that the "panda deal" would "promote public awareness on panda conservation undertaken by China" and "encourage the public to appreciate and learn the importance of biodiversity and wildlife conservation in Malaysia."
High level politicking
However, BERNAMA explained that "it is not just a pair of pandas on Malaysian soil."
China's ambassador to Malaysia, Chai Xi, recently said that it was a political decision at the highest level and augured well for the on-going and future bilateral relations between the two nations.
Malayisa's Prime Minister Datuk Seri Najib Tun Razak apparently requested the pandas from Chinese Premier Wen Jiabao while in Nanning, China, earlier this year.
'A waste of public funds'
Executive Director and CEO of WWF-Malaysia, Dato' Dr. Dionysius Sharma, is opposed to the panda loan and stated that "the significant funds are better utilised for the conservation of local endangered wildlife species."
Unless the panda loan arrangement contributes positively towards the conservation of wild pandas or other endangered species living in the panda's habitat, WWF views the deal with China as a waste of public funds, and a futile effort in terms of wildlife conservation –- especially as funds are urgently needed for the conservation of endangered species in Malaysia, such as the Malayan tiger, marine turtles, orang-utans and Sumatran rhinoceros.
Dr. Sharma said he doubted that the costs of housing the pandas would be offset by "admission fees" paid by the public to view the pandas.
An ironic arrangement
Ironically, some of the rarest species in Malaysia, notably the Sumatran rhino and the Malayan tiger, are already at precipitously low numbers because of the use of rhino horns and tiger parts in traditional Chinese medicine.
And Malaysia's pangolins are currently being killed at an alarming rate to satisfy the demand from China, where pangolin flesh and scales are believed to be somewhat of a "cure-all".
Yet another victim of China's insatiable appetite for wildlife is the Malayan sun bear. These unique bears are frequently killed so their gallbladders can be used in traditional Chinese medicine, while their paws are consumed as a "delicacy".
Meanwhile, China continues to vacuum Malaysia — and other Southeast Asian countries — of turtle and tortoise populations.
Yes, China's pandas are rare and endangered — but Malaysia's own wildlife should not have to pay the price of panda politics.
---
Image: Jcwf from nl via Wikimedia Commons
Comments
comments