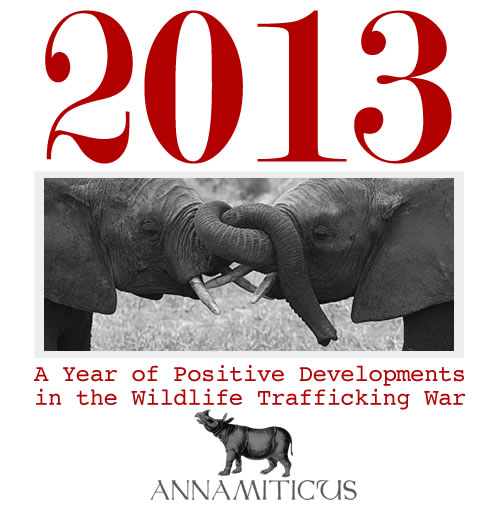 In 2013, horrifying headlines about the voiceless victims of wildlife trafficking captured public attention around the world. Has a turning point in the war on wildlife crime finally arrived?
Make no mistake: This is not a fight that will one day be "won" so we can all go home. Rather, it is an ongoing state of vigilance for law enforcement, activists, NGOs, environmental journalists and concerned citizens. Nevertheless, we need to recognize — and celebrate — our progress.
I've been writing about wildlife trafficking for nearly five years and I think there is something different about 2013. World leaders have publicly committed to tackling the illegal wildlife trade and there seems to be a consensus that this scourge is nothing less than transnational organized crime which — and it should be dealt with accordingly. Wildlife trafficking breeds corruption in governments and encourages greed in the private sector. It threatens regional security and funds global terrorism.
So, what happened in 2013?
Experts agree that demand for wildlife products must be reduced.
It can be said that from almost every corner of the world, demand reduction was a unifying battle cry for 2013.
John E. Scanlon, Secretary-General, Convention on International Trade in Endangered Species of Wild Fauna and Flora (CITES), writes that CoP16 was a "watershed moment" for combating wildlife crime.
"In addition to addressing enforcement, there was a clear recognition by CITES Parties that we need to reduce demand for illegal and untraceable products and to enhance overall public awareness of the severe damage caused by unregulated and illegal trade."
The Clinton Global Initiative launched "Partnership to Save Africa's Elephants", a coalition of non-governmental organizations brought together to "directly target the chief drivers" of ivory trafficking.
This commitment takes a triple pronged approach by dedicating funding to: "stop the killing," "stop the trafficking," and "stop the demand."
A post on the ARREST (Asia's Regional Response to Endangered Species Trafficking) blog notes that as part of NGO Education for Nature-Vietnam's demand reduction campaign, banners discouraging consumption of wildlife were hung at nearly 30 markets in major Vietnamese cities such as Hanoi, Ho Chi Minh and Da Nang.
"The newest banners shown at the markets display a rhino to help encourage consumers not to purchase wildlife products and remind them of the penalties for doing so. Furthermore, the banners display wildlife crime hotline information for citizens to report illegal trade in endangered species."
We know from history that demand reduction works. Dr. Ron Orenstein, a zoologist, lawyer, and author of Ivory, Horn, and Blood: Behind the Elephant and Rhinoceros Poaching Crisis, speaks from 25 years of experience in this arena.
"A combination of strong and effective enforcement on the ground and effective regulation of the market, including demand reduction programs, has indeed worked in the past, and worked very well. During the 1990s, it was believed by many conservationists that rhinoceros conservation was on an upward trend as a result of such efforts in both Africa and Asia."
Education, public awareness, social pressure, and governments leading by example are just some of the tools that can be used to reduce consumer demand for wildlife products.
Tackling the wildlife trafficking crisis is an issue which has reached the highest political and royal levels.
The United States has stepped forward with unprecedented government attention on the issue of wildlife trafficking. President Obama issued an Executive Order on July 1 to "enhance domestic efforts to combat wildlife trafficking, to assist foreign nations in building capacity to combat wildlife trafficking, and to assist in combating transnational organized crime". This includes the establishment of the Presidential Task Force on Wildlife Trafficking
As part of the new Transnational Organized Crime Rewards Program, U.S. Secretary of State John Kerry announced on November 13, 2013, that a reward of up to $1 million is being offered for information leading to the dismantling of the Laos-based Xaysavang Network, headed by Vixay Keosavang.
The announcement of the reward came just one day before the U.S. destroyed its stockpile of six tons of confiscated ivory.
Secretary of the Interior Sally Jewell said, "We encourage other nations to join us in destroying confiscated ivory stockpiles and taking other actions to combat wildlife crime."
Wildlife trafficking was also on Secretary Kerry's agenda when he visited Vietnam in December 2013.
And the U.S. rhino horn trafficking case "Operation Crash" continued to move forward this year, with prison sentences for David Hausman, Vinh Chuong "Jimmy" Kha, Felix Kha, and Qiang Wang, aka Jeffrey Wang.
In the U.K., Prince Charles warned, "We face one of the most serious threats to wildlife ever, and we must treat it as a battle – because it is precisely that."
"Organised bands of criminals are stealing and slaughtering elephants, rhinoceros and tigers, as well as large numbers of other species, in a way that has never been seen before. They are taking these animals, sometimes in unimaginably high numbers, using the weapons of war – assault rifles, silencers, night-vision equipment and helicopters."
Prince William added: "My fear is that one of two things will stop the illegal trade: either we take action to stem the trade, or we will run out of the animals. There is no other outcome possible."
France joined the growing international movement to close down ivory trafficking and has announced that its three tons of confiscated ivory will be destroyed.
Asia and Africa: Fighting wildlife crime at ground zero.
On June 21, 2013, the Philippines destroyed its $10 million stockpile of confiscated elephant tusks at a ceremonial event showing the country's commitment to ending the blood ivory trade. Speaking at the ceremony, Philippine Secretary of the Department of Environment and Natural Resources (DENR) Ramon Paje said, "This act is a strong statement to the rest of the world that the Philippines is serious and will not tolerate illegal wildlife trade."
The Philippines was one of eight nations identified as "primary source, transit and import countries affected by illegal trade in ivory" at CITES CoP16 in Bangkok, along with China, Kenya, Malaysia, Thailand, Uganda, Tanzania and Vietnam.
In Sumatra, Indonesia, representatives of the five Asian rhino range states of Bhutan, India, Indonesia, Malaysia and Nepal signed the historical Bandar Lampung Declaration.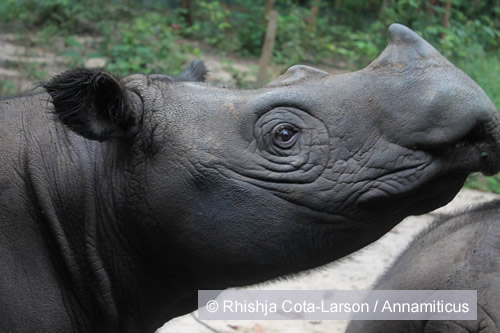 The nations pledged cooperation on priority conservation measures of the three Asian rhino species, it was agreed that rhino horn trade ban must be maintained. Indeed, with fewer than 100 Sumatran and less than 50 Javan rhinos, these species are tragic reminders of an era when rhino horn trade was still legal.
"The CITES ban in the international trade of all rhino products needs to maintained and enforced, including by those countries where rhino products are used, any countries that act as intermediate points in the trade, and all rhino range states."
Hong Kong for Elephants is bringing world attention to the country's ivory issue. On October 4, the Hong Kong Elephant Walk consisted of 200 people and over 10 local celebrities trumpeting the travesties of the ivory trade.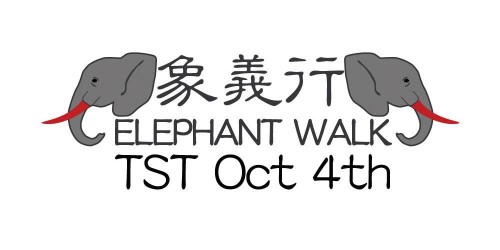 Hong Kong for Elephants is lobbying for the destruction of the government's 30-ton ivory stockpile. This would "send a strong message to the world that some of us prefer live elephants to dead art," says Sharon Kwok, spokesperson for Hong Kong for Elephants.
Vietnam is frequently referred to as the epicenter of illegal wildlife trade, but the efforts of the country's first NGO, Education for Nature-Vietnam, are changing public attitudes about wildlife consumption. (Podcast: "Tackling Wildlife Crime in Vietnam" with Quyen Vu.)
During CITES CoP16, ENV released a powerful and innovative public service announcement ("Tiêu thụ sừng tê giác là hành động đáng lên án!") which calls rhino horn users "ignorant, foolish, backward, cruel, and evil".
ENV hopes the PSA "will help send a strong message to rhino horn consumers that this behavior is socially unacceptable, and the effects of this kind of consumption are being felt across the world".
On the African continent, success stories from Cameroon and the Congo highlight the work of the Last Great Ape Organization (LAGA), the first wildlife law enforcement NGO in Africa, and Project for the Application of Law for Fauna (PALF), an NGO which fights corruption by closely monitoring the Congo's judicial process in wildlife crime cases.
In Cameroon, Ofir Drori, founder of LAGA, reports not only an increasing number of arrests in the region, but also the escalation of an important ivory case.
"We had a landmark decision for our Douala ivory case to be forwarded to a special tribunal. This is the first wildlife case to get to the Special Criminal Court. The Special Criminal Court was created to prosecute Cameroon's corrupt officials."
In the neighboring Congo, an ivory kingpin who evaded justice for over a decade is now behind bars at Brazzaville Prison. Naftali Honig of PALF reported that Ghislain Ngondjo — known as "Pépito" — was sentenced to five years in jail by the court in Ewo. (Podcast: "Tackling Corruption in the Congo" with Naftali Honig.)
Amidst the rise of elephant and rhino killings in Kenya, Dr. Paula Kahumbu writes that the country's Cabinet "approved a complete overhaul of the country's national wildlife legislation by approving the Wildlife Bill and Policy, in one of the swiftest responses to the recent reports of escalating poaching of elephants and rhinos."
According to Kenya's Standard Digital News, if the the Wildlife Conservation and Management Bill 2013 is signed into law by the President, "Anyone convicted of poaching or facilitating the poaching of rhinos and elephants will be jailed for life."
Increased INTERPOL involvement in tackling wildlife crime.
INTERPOL and the United Nations Environment Program (UNEP) hosted the International Environmental Compliance and Enforcement Committee Conference in November, with over 560 registered participants representing governmental, inter-governmental and non-governmental agencies and organizations from more than 80 different countries.
"Environmental crime is a serious form of organized crime on par with other forms of transnational crime including trafficking in narcotics and firearms, as well as terrorism."
Recognizing that wildlife trafficking is an international enterprise, at least three countries made use of the INTERPOL Red List.
Disappointments.
Unfortunately, 2013 saw major disappointments as well. Here are two of them, neither of which is a surprise:
The first is the re-emergence of Anson Wong in Malaysia. Wong is one of the world's most notorious wildlife traffickers and his operation is described by Bryan Christy's fascinating book, The Lizard King: The True Crimes and Passions of the World's Greatest Reptile Smugglers.
Although Wong was arrested in Malaysia in 2010 and sentenced to five years in prison, his sentence was cut short on appeal and he was released in February 2012. Earlier this year, Al Jazeera revealed that Wong was back in business.
"Posing as dealers, we got inside the Lizard King's syndicate, speaking to longtime distributors, to allies-turned rivals, to current-day employees. We presented our sometimes alarming findings to experts, who said that none of the Lizard King's present day operations would be possible without the complicit help of Malaysian authorities."
In response to the Al Jazeera investigative report, TRAFFIC Southeast Asia called on Malaysia's wildlife officials to come clean regarding their involvement.
"Now we call on the Ministry and the Wildlife Department to declare all permits issued since 2010 to companies linked to the duo that were named in the 'Return of the Lizard King" documentary. Reveal who approved these permits, and what species have been traded using those permits. TRAFFIC has written officially to the Ministry today seeking the same."
The second major disappointment of 2013 is South Africa's push for a legal trade in rhino horn — the opposite of demand reduction. Like the Anson Wong debacle, this comes as no surprise. I witnessed the South African delegation "testing the legal trade waters" firsthand at CITES CoP16 in Bangkok.
A follow-up analysis done by the Environmental Investigation Agency (EIA) found that since Environmental Minister Edna Molewa's call for a legal international trade in rhino horn, the killing of the country's rhinos has increased. Sadly, this "banking on extinction" strategy makes the job of South Africa's rangers on the front lines even more difficult — and deadly — as traffickers stock up on rhino horns.
EIA President Allan Thornton said:
"South Africa is stimulating an ever-increasing and unsustainable demand for rhino horn in Vietnam, China and other countries that is fueling the rhino poaching epidemic. South Africa's policy signal to the global marketplace that rhino horn is a smart investment commodity is unleashing a tsunami of destruction on South Africa's rhinos."
Indeed, Dr. Orenstein makes the case in Ivory, Horn and Blood that the best advertisement for wildlife smugglers is legal trade.
The way forward.
It's been said many times before: There is not one "silver bullet" that will solve the wildlife trafficking crisis. However, there is a core set of activities that we can all support, whether it's with our keyboards, our wallets, our sweat or our creativity.
Demand reduction campaigns;
Law enforcement and application;
Rooting out and exposing corruption;
Public outcry against wildlife trafficking;
Informed media reporting.
Building on the progress that was made in 2013 is a tall order, and I'm up for the challenge. Are you?
---
Comments
comments