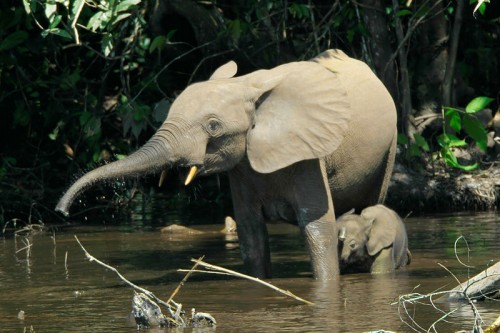 An ivory kingpin who evaded justice for over a decade is now behind bars at Brazzaville Prison.
Naftali Honig of Project for the Application of Law for Fauna (PALF) said via email that Ghislain Ngondjo — known as "Pépito" — was sentenced to five years in jail by the court in Ewo.
For more than a decade, Odzala-Kokoua National Park and the surrounding Cuvette-Ouest Region of the Republic of the Congo were plagued with a crippling presence: Ghislain Ngondjo, who is known in the ivory trafficking circles simply as, "Pépito."

Pepito's sense of impunity probably expired last night when he was delivered to the Brazzaville Prison to serve a five-year prison sentence.
PALF is an NGO which fights corruption by closely monitoring the Congo's judicial process in wildlife crime cases.
More good news from Central Africa: In neighboring Cameroon, Ofir Drori, founder of the Last Great Ape Organization (LAGA) reports that two wildlife traffickers each received two-year sentences, and that an important ivory case has been escalated.
We had a landmark decision for our Douala ivory case to be forwarded to a special tribunal. This is the first wildlife case to get to the Special Criminal Court. The Special Criminal Court was created to prosecute Cameroon's corrupt officials.
LAGA is the first wildlife law enforcement NGO in Africa. In 2012, Drori was the recipient of the prestigious WWF Duke of Edinburgh Conservation Medal. He is the author of The Last Great Ape: A Journey Through Africa and a Fight for the Heart of the Continent.
In 2012, an estimated 30,000 elephants were massacred on the African continent. Terrorist groups, including the Lord's Resistance Army (LRA) led by Joseph Kony, are using the illegal ivory trade to fund their operations.
Learn more:
---
Comments
comments