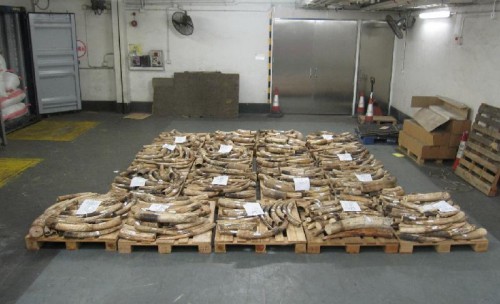 Authorities in Hong Kong confiscated four tons of of illegal ivory this week, which arrived in two containers from Tanzania and Kenya.
Guangdong Customs alerted Hong Kong Customs to "two suspicious containers shipped from Africa." One container from Tanzania was marked as "plastic scrap" but was actually 972 pieces of raw ivory tusks, weighing about 4,248 lbs (1,927 kg), along with three pounds (1.4 kg) of ivory ornaments. The other container, from Kenya, held 237 pieces of raw ivory tusks, weighing about 4,154 lbs (1,884 kg), and had been declared as "roscoco beans".
The haul represents the deaths of at least 600 elephants.
Both shipments arrived via Malaysia, although it was reported by The Telegraph that the Kenya shipment also passed through UAE and Guangdong in mainland China.
Chinese authorities have arrested seven people, including one Hong Kong resident, according to CNN. Citing a source at Interpol, it was later reported by The Citizen that four Tanzanians have been named in connection with the incident and "the ivory consignment seized in Hong Kong last week is from Selous Game Reserve and Mikumi".
Tanzania has submitted a proposal to CITES which would downlist its elephant population from Appendix I to Appendix II, allowing a one-off ivory sale to China and Japan, as well as trade in elephant hunting trophies, skins, feet, ears, tails, and live elephants.
However, Kenya notes that "legal trade in ivory poses a very serious threat to elephant populations" and urges CITES to consider its own "precautionary approach" regarding matters of trade.
By virtue of the precautionary approach and in cases of uncertainty regarding the status of a species or the impact of trade on the conservation of a species, the Parties shall act in the best interest of the conservation of the species concerned and, when considering proposals to amend Appendix I or II, adopt measures that are proportionate to the anticipated risks to the species.
CITES CoP16 will be held in Bangkok, Thailand, from March 3rd — 14th, 2013, which will coincide with the 40th anniversary of CITES.
---
Source & photo: GovHK
Comments
comments