Source: California State Assembly (asmdc.org)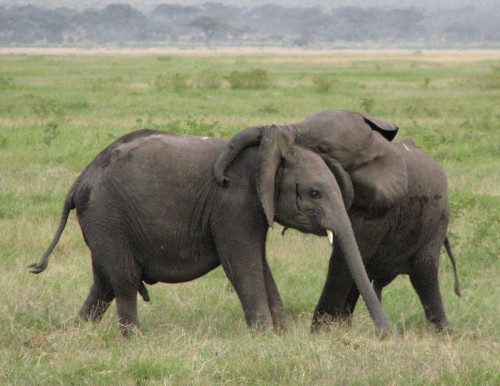 Sacramento – In response to the global wildlife crisis in which an average of 96 elephants are being slaughtered daily for their ivory in Africa, Assembly Speaker Toni G. Atkins has introduced AB 96 to close loopholes that prevent the effective enforcement of existing California law prohibiting the sale of ivory.
"The slaughter of elephants for their tusks and rhinos for their horns is as senseless as it is cruel," said Speaker Atkins (D-San Diego).
"California recognized that and enacted a law almost 40 years ago to end the ivory trade here, but that law needs strengthening in order to be effective. AB 96 closes the loophole that allows the illegal ivory trade to continue to flourish and adds real enforcement teeth to the law so California can do our part to end the slaughter."
"Elephants and rhinos are being slaughtered and mutilated at an unprecedented rate and driven to extinction due to demand for their tusks and horns," said Senator Ricardo Lara (D-Bell Gardens). Senator Lara is the Principal Co-author of the bill.
"If we are serious about protecting endangered species and ensuring that they will be here for future generations to appreciate, California must take a decisive step in stopping, once and for all, the sale or trade of ivory and rhinos horns."
International, federal and state laws are all being strengthened to protect iconic species from cruelty and extinction. The states of New York and New Jersey recently enacted strong prohibitions on intra-state ivory and rhino-horn commerce and the federal government has proposed strengthened ivory trade and import regulations.
In a new report commissioned by the Natural Resources Defense Council (NRDC), Elephant Ivory Trafficking in California, USA, the investigator examined more than 1,250 ivory items offered for sale by 107 vendors in Los Angeles and San Francisco. He found that up to 90% of the ivory for sale in Los Angeles and approximately 80% in San Francisco was likely illegal under California law. Much of the ivory was advertised as antiques and/or crafted to look older so it would appear legal, though the pieces were more likely from recently-killed elephants. Additionally, the incidence of what appears to be ivory of recent manufacture roughly doubled from approximately 25% in 2006 to about 50% in 2014.
AB 96 would prohibit a person from purchasing, selling, offering for sale, possessing with intent to sell, or importing with intent to sell elephant ivory or rhinoceros horn, except as specified under very limited educational and scientific circumstances, and would make this prohibition enforceable by the Department of Fish and Wildlife.
The bill would make a violation of this provision a misdemeanor subject to specified graduated criminal penalties. In addition to the specified criminal penalties, the bill would authorize the department to impose a civil penalty of up to $10,000 for a violation of this provision or any rule, regulation, or order adopted pursuant to this provision.
AB 96 is supported by a host of community, environmental, and animal protection groups including the NRDC, The Humane Society of the United States/Humane Society International, Wildlife Conservation Society, California Zoo & Aquarium Association, Oakland Zoo, and the Asian Pacific Alliance for Wildlife & Sustainability. Additionally, nearly a dozen state lawmakers including wildlife policy committee chairs in both the Assembly and the Senate have already signed on as co-authors of AB 96.
"Research shows that Asian Pacific Americans are among the strongest supporters of conservation and environmental protection. On behalf of Asian Pacific Americans everywhere, the Asian Pacific Alliance for Wildlife & Sustainability (APAWS) is proud to support Speaker Toni Atkins' AB 96 to close down illegal ivory trafficking in California that contributes to the cruel global decimation of elephants and other precious wildlife," stated Judy Ki, chair of APAWS.
The provisions of AB 96 would become operative on July 1, 2016.
---
Comments
comments