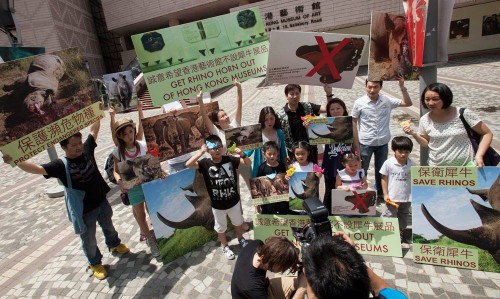 Over 20 protestors gathered outside the Hong Kong Museum of Art on Sunday to picket the inclusion of rhino horn and ivory items in an exhibit running until September 28.
Demonstrators waved placards, chanted "save our rhinos" in both Cantonese and English, and young protestors folded origami rhino heads. They also gathered signatures for a petition on the issue and delivered a letter to the museum requesting the removal of rhino horn and ivory from its exhibits. The event was covered widely by both local and global media.
The exhibit, which displays 270 Ming and Qing dynasty artworks, includes "libation cups" used by the imperial court made from rhino horn, as well as at least two large carved ivory tusks.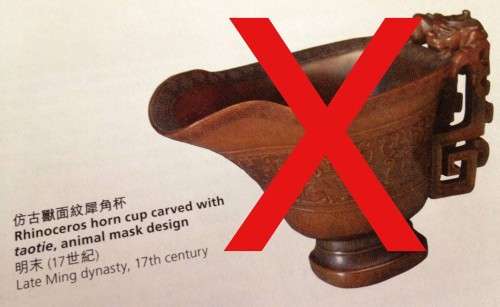 The demonstrators believe it is irresponsible and inconsistent of Hong Kong government venues to be displaying artefacts made from endangered species to visiting tourists, many of which come from mainland China where the demand for such items has been escalating in tandem with its expanding middle class. Furthermore, the territory's Agricultural, Fisheries & Conservation Department recently began destroying its ivory stockpile – a public act symbolizing its disapproval of illegal trade in endangered species, and a message entirely at odds with the museum's exhibition.
"We believe it is extremely hazardous to the last remaining populations of rhinos in Africa that tourists from all over the world will pass through the exhibition and leave with the subliminal message that the possession of ivory and rhino horn is something to aspire to. This is sure to drive up the price of market rhino horn and ivory, thereby increasing rhino poaching rates," said a protest organizer.
Moreover, the links between the antique and illegal wildlife trade were highlighted in a recent US court case whereby antique appraiser and Texas resident Ning Qiu was sentenced to a 25-month prison sentence and a US$150,000 fine for participating in an illegal wildlife smuggling conspiracy.
"In pleading guilty, Qiu admitted that he worked at an auction house in Dallas as an appraiser of Asian artwork and antiques, specializing in carvings made from rhinoceros horn and elephant ivory… Qiu traveled throughout the US to purchase raw and carved rhinoceros horns and elephant ivory… After acquiring the items for Li, Qiu arranged for them to be smuggled to a location in Hong Kong… Li admitted that he sold raw rhinoceros horns worth approximately $3 million – approximately $17,500 per pound – to factories in China where the horns are carved into fake antiques," reads the US Department of Justice press release on the case.
Statistics released on June 30 by the South African Department of Environmental Affairs showed that at least 496 rhinos have been butchered for their horns in the first six months of this year.
An Annamiticus representative was present at the event, organized by a coalition of NGOs including Wild Life Risk, Hong Kong Humane Education Coalition and WildAid. Protest organizer Rosana Ng Mei-fung was made Hong Kong ambassador to Outraged South African Citizens Against Rhino Poaching on the day of the demonstration.
Sign the petition to remove rhino horn and ivory from Hong Kong museums here.
---
Comments
comments