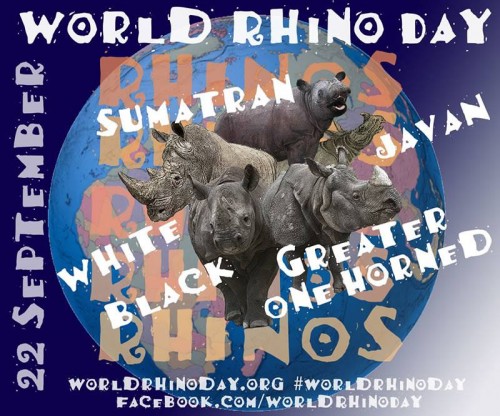 World Rhino Day 2014: In less than one week, NGOs, zoos, cause-related organizations, businesses, and concerned individuals from nearly every corner of the world will unite with the common purpose of celebrating one of our Planet's most iconic species.
This year, a total of more than 30 unique World Rhino Day events are planned in Australia, Cameroon, the Czech Republic, Indonesia, Ireland, Italy, Kenya, Namibia, Nepal, South Africa, Sweden, United Arab Emirates, United Kingdom, United States, Vietnam, and Zimbabwe. Note that since the Big Day officially falls on a Monday, many events are being held on September 20 and 21.
A list — updated daily, often more than once! — of World Rhino Day celebrations can be found on the 2014 Events page on the World Rhino Day website (worldrhinoday.org). In addition, events and announcements are posted throughout the day (and/or night, depending on your time zone) on the World Rhino Day Facebook page.
#WorldRhinoDay hashtags!
#nailit4rhinos
#RhinoSummit2014
#Rhinos1st
#iam4rhinos
#ShareTheRhinopiness
#BurnHorns
#MuddyForRhinos
#selfievitegiac
#TeamRhino
World Rhino Day was first announced by WWF-South Africa in 2010. Since then, World Rhino Day has grown into an international celebration of all five rhino species. Check out worldrhinoday.org to learn more.
World Rhino Day 2013 compilation video:
---
Comments
comments