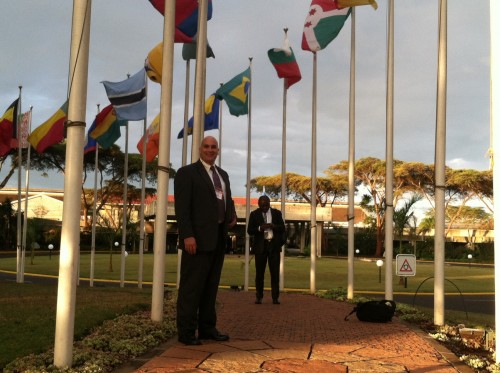 NAIROBI – The International Environmental Compliance and Enforcement Committee Conference, hosted by INTERPOL and the United Nations Environment Program (UNEP), kicked off on November 4, 2013, with over 560 registered participants representing governmental, inter-governmental and non-governmental agencies and organizations from more than 80 different countries.
The full roster of events began with encouraging news from the Environmental Crime Programme, who reported a recent elevation to a sub-directorate level within the INTERPOL organization.  This elevation to an Environmental Security Sub-directorate is in response to the direct recognition that environmental crime is a serious form of organized crime on par with other forms of transnational crime including trafficking in narcotics and firearms, as well as terrorism.  The sub-directorate is currently organized under four major crime areas with projects and operations coordinated within each.  These specialized crime areas are; Wildlife (Projects Predator, Wisdom and Ursa), Forestry (Project Leaf), Fisheries (Project Scale) and Environmental Quality (Project Eden).
Also on the first day, the INTERPOL Wildlife Crime Working Group held its 24th meeting since formation in 1992. The working groups Chair, Klairoong Poonpon (Thailand) kicked off the meeting with an update on the four main focus areas agreed upon by the group: wildlife forensics, illegal trade in wildlife on the internet, illegal trade in elephant ivory and rhinoceros horn, and illegal logging.  Updates were also provided by individual project coordinators.
Dr. William Clark (INTERPOL) provided an update for Project Wisdom which was formed to address alarming levels of crime involving elephants and rhinos. Stating that "poaching and trafficking in elephant ivory and rhinoceros horn have surpassed the capacity of law enforcement to address it," Dr. Clark called for broader involvement by partner organizations recognizing that this was a problem that was going to take all of us to solve.   Dr. Clark did report successes in specific multinational task force operations like Operation Wendi and Operation Wildpath that resulted in significant arrests and seizures of contraband wildlife and firearms.  Dr. Clark also reported the deployment of three incident response teams to Togo, Nepal and Singapore in response to requests for assistance from those member countries.
Ms. Ioana Botezatu (INTERPOL) provided an update for Project Predator which was developed to support and enhance law enforcement capacity in tiger-range countries to protect and conserve wild tigers.  Project Predator's efforts also extend to all Asian "big cats" and recently further extended its reach with inclusion of the snow leopard range countries Russia and Kyrgyzstan. Objectives of the project include: encourage communication, cooperation and collaboration with respect to intelligence exchange, cross-border investigations and training; contribute to the apprehension of criminals and organized groups; and develop a global picture of the criminal activity affecting the ongoing conservation of tigers and Asian big cats. In 2012 and 2013 the Operation conducted 5 training and needs assessment workshops and seminars in Nepal, China, India and Thailand.
Mr. Richard Charette (INTERPOL) provided an update for Project Ursa, developed to address the illegal trade in bear and bear parts and products.  Specifically, Project Ursa focuses on illegal hunting of bears, the illegal trade in bear parts and products, as well as illegal captive establishments. Similar to the other projects, Project Ursa's objectives are to improve and increase intelligence capability by law enforcement agencies, build law enforcement capacity to address these crimes, conduct specific operations and assist member countries in an advisory capacity as needed.
Visit INTERPOL's Environmental Compliance and Enforcement Committee page for more information.
---
Comments
comments