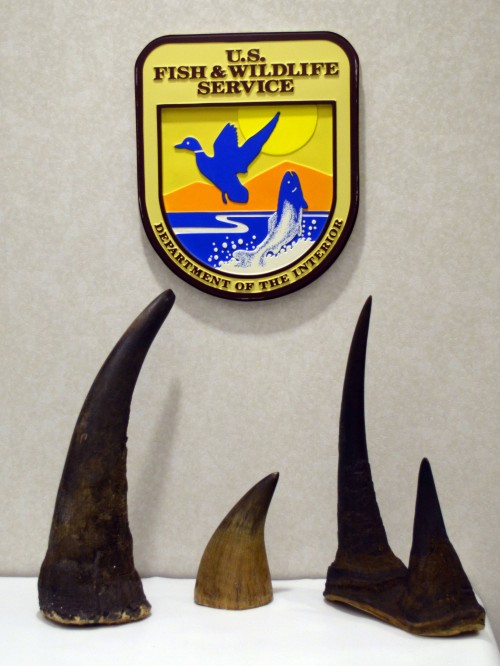 Shusen Wei, the founder of Dongying Yisheng Petroleum Product Sales Co. Ltd. and Vice Chairman of the local Dongying Chamber of Commerce, has pleaded guilty to charges arising from his involvement with a rhino horn trafficking ring operating in the United States.
Wei was arrested on February 2nd, 2013, at JFK airport — en route to China — shortly after he was questioned by USFWS agents at the Original Miami Beach Antiques Show.
According to court documents, Wei traveled to the US from China to attend the antiques show. He was staying at a hotel with a business associate (Zhefei Li) who was already under investigation for rhino horn smuggling.
During an interview by USFWS agents at the antiques show in Miami, Wei admitted that he knew "Li deals in rhinoceros horn items and pays bribes to Chinese customs officials" in order to get the items into China, and that he (Wei) had previously purchased two rhino horn libation cups from Li for $200,000 and $190,000 in 2010.
Wei said he did not have permits for the cups and does not ask Li questions about "how he smuggles the items to China". While at the antiques show, Wei purchased a jade cup for $10,000 and received a $40,000 wire from China for purchasing additional items at the antiques show. He said that Li was planning to purchase rhino horn at the antiques show and was trying to borrow money from Chinese antiques dealers.
Although Wei told the USFWS agents that he would comply with a subpoena to appear on February 15th, 2013, in the Eastern District of New Jersey, the USFWS learned from a confidential informant (CI) that he was in fact leaving the United States instead of complying with the subpoena.
Wei offered $10,000 to the CI, for the purpose of bribing a USFWS agent in exchange for closing the investigation into Wei and his business associate. Indeed, the day after he had been interviewed by USFWS officers, Wei was on his way to China via JFK airport, where he was arrested, and transferred to the Metropolitan Detention Center (MDC), Brooklyn.
On April 5th, 2013, Wei was granted a presentence release on $120,000 bond with travel restricted to Miami, Florida, New York and New Jersey, accompanied by his attorney. His sentencing is scheduled for April 29th, 2013.
Meanwhile, at the same Miami antiques show, Li (Wei's business associate) purchased two black rhino horns from an undercover USFWS agent. He then asked the officer to procure additional rhino horns and mail them to his company in Hong Kong. Li was indicted in February 2013 for conspiring to smuggle more than 20 rhino horns from the U.S. to Hong Kong in 2011 and 2012.
In February 2013, Manhattan antiques dealer David Hausman was sentenced to six months in jail followed by one year of supervised release for his role in the trafficking of rhino horns in the United States. Hausman will pay a $10,000 fine to the Lacey Act Reward Fund and $18,000 to the Rhino Tiger Conservation Fund, along with a $200 special assessment fee. He pleaded guilty in July 2012 to the crimes of obstruction of justice and creating false records in violation of the Lacey Act.
"Operation Crash" is an ongoing nationwide effort led by the U.S. Fish & Wildlife Service (FWS) and the Justice Department to crack down on rhino horn trafficking. The defendants face maximum penalties of up to five years in prison and a $250,000 fine for conspiracy; five years in prison and a $250,000 fine for Lacey Act violations; and up to one year in prison and a $100,000 fine for violations of the Endangered Species Act.
According to court documents, the U.S. government has produced more than 5,000 pages of discovery in the Operation Crash case.
See also: Update on U.S. Rhino Horn Trafficking Case 'Operation Crash'.
---
Source: PACER
Comments
comments