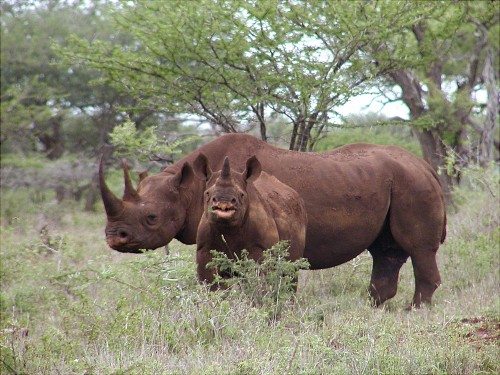 Sentencing is scheduled to begin in January 2013 for six of the seven people busted by U.S. federal agents for rhino horn trafficking.
"Operation Crash" resulted in the February 2012 arrests of David Hausman, Felix and Vin Chuong "Jimmy" Kha, Mai Nguyen, Jarrod Wade Steffen, Amir Even-Ezra, and Zhao Feng Jin.
The defendants face maximum penalties of up to five years in prison and a $250,000 fine for conspiracy; five years in prison and a $250,000 fine for Lacey Act violations; and up to one year in prison and a $100,000 fine for violations of the Endangered Species Act.
According to court documents, the U.S. government has produced more than 5,000 pages of discovery in the Operation Crash case.
David Hausman
Update 02/15/2013: David Hausman sentenced to prison — 'Operation Crash': NY Antiques Dealer Sentenced to Prison for Rhino Horn Trafficking
Sentencing for New York antiques dealer David Hausman is currently scheduled for January 10th, 2013. (Rescheduled to 02/14/2013) Although released on his own recognizance, he awaits sentencing under the conditions that his travel remain restricted to legitimate business only and no foreign travel; his passport was surrendered to Pretrial Services.
Hausman pleaded guilty in July 2012 to obstruction of justice and creating false records in relation to rhino horn trafficking. He admitted to engaging in criminal acts while pretending to assist the U.S. Fish and Wildlife Service as an antiques expert.
David Hausman pretended he was helping law enforcement protect a species from being wiped out but instead he was contributing to the very problem.
Hausman "misled officers in a federal government investigation, falsified records and concealed his own purchase, sale and profit from illegal trade in black rhinoceros horns". The incidents leading up to Hausman's arrest began in December 2010 — see U.S. Antiques Dealer Pleads Guilty in Rhino Horn Trafficking Case for the details.
Felix and Vin Chuong "Jimmy" Kha
Update 05/15/2013: Khas sent to prison — 'Operation Crash' Update: US Sentences Rhino Horn Traffickers to Prison.
California residents Felix and Jimmy Kha remain in custody as they await their sentencing date of January 28th, 2013.
In September 2012, the pair pleaded guilty to charges of conspiracy, smuggling, Lacey Act violations, money laundering and tax fraud for their roles in the international illegal trafficking of rhino horn.
Both defendants stated that they purchased the horns in order to export them overseas to be sold and made into libation cups or traditional medicine. Both acknowledged making payments to Vietnamese customs officials to ensure clearance of horn shipments sent to that country. In addition, Jimmy and Felix Kha each admitted to failing to pay income tax owed in 2009 and 2010.
Felix and Jimmy Kha (along with another defendant, Mai Nguyen) provided "compensation for previous rhinoceros horn purchases and shipments" and funded "future purchases and shipments of rhinoceros horn" to associates who traveled to Long Beach, California, from Omaha, Nebraska; Chicago, Illinois; Milwaukee, Wisconsin; Dallas and Austin Texas.
Win Lee Corporation, owned by Jimmy Kha and located in Westminster, California, also pleaded guilty to two felony counts of smuggling and Lacey Act trafficking and faces fines up to $1 million. The company apparently imports statues and other items from Asia.
Nhu Mai Nguyen
Nhu Mai Nguyen (aka Mai Nguyen) was released on $50,000 bail and is expected to appear for a jury trial on March 19th, 2013.
In addition to paying for the purchase and shipment of rhinoceros horns, Mai Nguyen received rhino horns on multiple occasions at her place of business, a nail salon (Joline's Nails) in Highland, California.
Mai Nguyen also filed a fraudulent tax return for the calendar year 2010, in which she stated that her income was $1,262 and that she owed taxes of $3,105. According to court documents, Mai Nguyen knew that her taxable income for 2010 was actually $95,547.04 and that she owed approximately $22,418 in taxes.
Jarrod Wade Steffen
Jerrod Wade Steffen's sentencing was continued to April 15th, 2013. He was granted a conditional release in order to travel to certain states "solely for the purposes of either picking up and/or receiving cattle, or for participating in a rodeo event", and for medical treatment which he sustained after being attacked by a camel in 2011.
Steffen bought and mailed dozens of rhino horns to the Khas, and made at least 10 trips to California to pick up payment and collect money for additional purchases.
During the conspiracy, Jerrod Wade Steffen purchased dozens of pairs of Black and White rhinoceros horns and shipped them to Jimmy Kha, Felix Kha, and Mai Nguyen.
It is anticipated that Steffen will testify as a witness for the United States at Mai Nguyen's jury trial on March 19th, 2013.
Amir Even-Ezra
Amir Even-Ezra is out on conditional release (travel restrictions) and granted a continuance order to January 19th, 2013. He was arrested after purchasing rhino horns "from an individual from New York at a service station off of the New Jersey Turnpike".
Even-Ezra allegedly brought a scale for weighing the horns and envelopes of cash to the meeting, which was brokered by an individual outside of the United States.
Even-Ezra's continuance order states that plea negotiations are currently in progress.
Zhao Feng Jin
Zhao Feng Jin (aka Jin Feng; Jin Zhao Feng; Zhou Feng; Feng Zhou; Feng Zhuo) was sentenced to six months in prison with credit for time served, and granted supervised release for one year on October 12th, 2012. Feng purchased a rhinoceros horn from Jimmy and Felix Kha and attempted to mail it to Shantou City in Guangdong Province, China.
The package, which was deposited with the U.S. Postal Service and which defendant obtained from co-defendants Jimmy Kha and Felix Kha, contained a single Black rhinoceros horn concealed under a layer of chocolates, cigarettes, bescuits, candy, sponges and packing materials.
Feng falsely declared on a U.S. customs declaration that the package contained "handcraft decorations", "chocolate" and "candy" with a total value of $86.
Macon auction house connection?
Court documents further suggest that Jim Lolli of Lolli Brothers Livestock Market in Macon, Missouri, has a connection to the defendants arrested in Operation Crash. According to a 55-page filing, Lolli has ties to Jimmy Kha, Felix Kha, Mai Nguyen, and Wade Steffen.
Lolli received eight wire transfers totaling $66,000 from Felix Kha. In addition, the Lolli Brothers Livestock Special Sales account at the Atlanta State Bank received $121,512 in wire transfers from the Khas, and nearly $1 million in cash.
A review of bank accounts maintained by Jim Lolli shows that one account, Lolli Brothers Livestock Special Sales at the Atlanta State Bank, has received 9 checks to Wade Steffen totaling $19,494, 3 checks to Molly Blackburn [Steffen's wife] totaling $48,206, 14 wire transfers from Felix and/or Jimmy Kha, 51 cash deposits totaling for $935,961, and 2 internal transfers between accounts for $40,000, each in January 2011, with a note specifying that it pertained to a "surplus horn commission."
Lolli is said to have mailed a total of 18 black rhino horns to Win Lee Corporation (owned by Kha).
Records obtained from the United States Postal Service show that Jim Lolli has mailed 19 packages from Macon, Missouri, to Win Lee Corporation, in California since January 26, 2010. Seven of the known packages have been opened pursuant to federally authorized search warrants in the Central District of California and found a total of 18 rhinoceros horns.
In 2011, a reporter from The Atlantic attended an auction at Lolli Brothers Livestock Market, where a pair of white rhinoceros horns was on display. Jim Lolli was quoted as saying, "The Orientals will buy them, but it's illegal to export them, so you've really got to watch what you're doing. I don't know what they do with them."
---
Source: PACER
Comments
comments