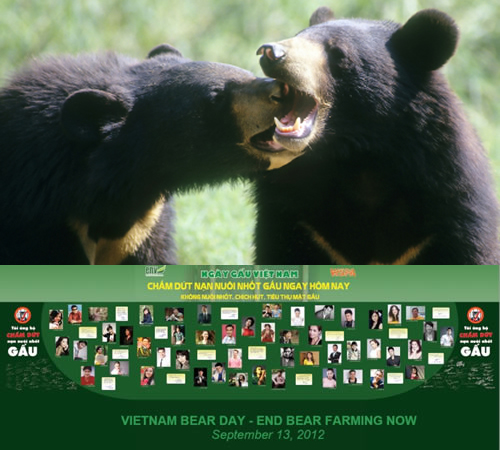 Vietnamese NGO Education for Nature-Vietnam (ENV) recently spearheaded the country's first "Bear Day", which united the media, celebrities, conservation volunteers, and members of the public in one clear message: End Bear Farming Now!
Vietnam Bear Day was held on September 13th, 2012, with celebrities My Linh and Minh Vuong speaking to journalists at a press conference in Hanoi about their desire to see an end to bear farming. ENV volunteers in seven major cities simultaneously hosted public awareness events, calling for an end to bear farming. Events were held in Ha Noi, Ha Long, Hai Phong, Vinh, Da Nang, Hue and Ho Chi Minh cities to focus public attention on the issue, and to encourage people not to consume bear bile or other bear products.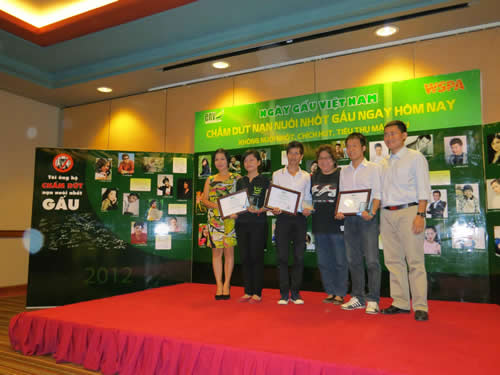 Four different TV stations covered Vietnam Bear Day (in Vietnamese, English, and Russian), and more than 40 online news sites and newspapers wrote about the event. Thousands of visitors also spent time at the public exhibits across the country, which were especially popular in regional cities such as Vinh and Ha Long city. (There was so much support in these cities that ENV ran out of bear pledge cards for people to sign to commit to not use bear bile or bear products!)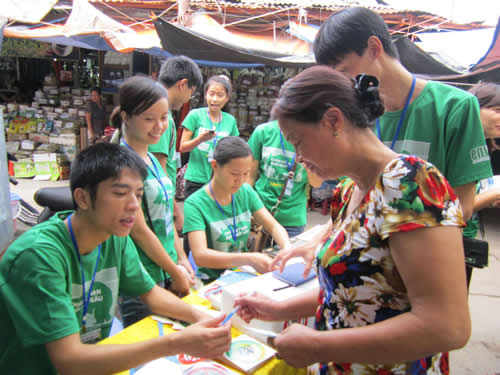 A "People's Choice" PSA Film Competition was also held. The topic was "Say NO to Bear Bile" — watch the winning video A Friend of Bears by Đinh Ngọc Thanh:
On the day after Vietnam Bear Day, a vote to shut down illegal bear farms took place at the IUCN World Conservation Congress, and was passed by an overwhelming 98 percent of the governments and conservation groups present.
Motion 027 calls for countries to close down bear bile farming and extraction facilities, capping the growth of the industry in China, and challenging those who back the industry to provide independent scientific evidence to the next IUCN World Conservation Congress. The IUCN also specifically encouraged the governments of Vietnam and South Korea to continue efforts towards ending bear farming.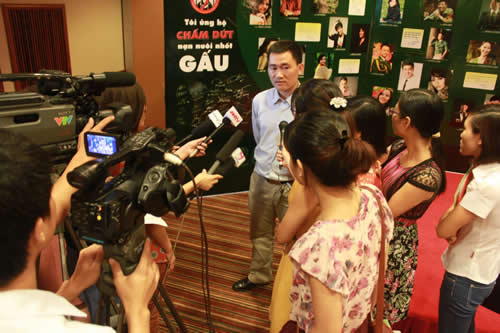 ENV is calling on the Ministry of Agriculture and Rural Development to reinforce its 2005 commitment to end all bear farming in Vietnam by aggressively enforcing a ban on bear bile extraction, and to work with the public, as well as other government agencies, to rapidly phase out bear farming altogether.
Closing Bear-ly Legal Loopholes in Vietnam — interview with Quyen Vu, founder of Education for Nature-Vietnam:
Closing Bear-ly Legal Loopholes in Vietnam is also available as a podcast on iTunes.
Learn more about how you can help Vietnam's bears at Education for Nature-Vietnam.
---
Vietnam Bear Day photos courtesy of Education for Nature-Vietnam.
Comments
comments