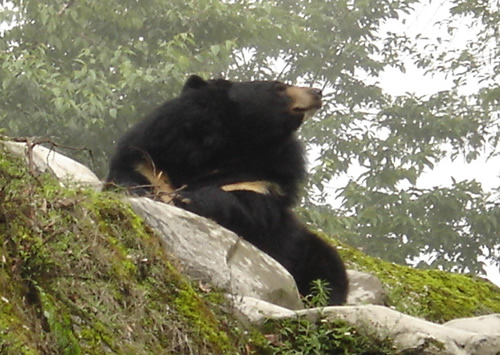 Five Asiatic black bears — also known as moon bears — were found massacred on Changbai Mountain in China's Jilin Province.
The tragedy was brought to the attention of authorities by wildlife blogger Hu Donglin, according to AsiaOne.
Jilin police arrested six suspects and confiscated a shotgun, ammunition, and two "homemade explosive devices". They said the bears were killed by the explosive devices.
The suspects had already sold the bears' gallbladders and paws.
Asiatic black bears (Ursus thibetanus) are protected under Class 2 of China's Wildlife Protection Law, but a "limited number" of permits are issued to kill "nuisance bears".
Although bear "farms" were established in China to "meet the demand" for bear bile (extracted from the gallbladder), wildlife trade experts note that the scheme has instead created additional demand (along with a surplus of bear bile). This booming bear bile industry has "spurred efforts to find markets in non-traditional uses of bile" such as lotions and shampoos.
In addition, since many users and practitioners of traditional Chinese medicine "believe that bile from wild bears is more effective at healing various ailments, and are thus willing to pay higher prices for this product", bear farming has not reduced the killing of wild bears.
---
Image by Jamil via Wikimedia Commons
Comments
comments