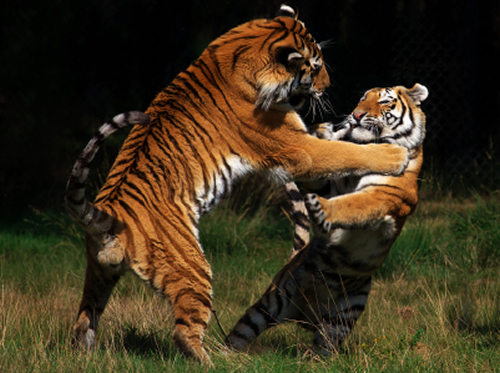 Following intelligence reports that a notorious wildlife trafficking gang has been given the order to procure 25 tigers for the black market, Chhindwara forest officials have nabbed eight suspects near Pench Tiger Reserve in Madhya Pradesh.
The Times of India reports that these arrests could be a breakthrough in the investigation of the gruesome discovery of a beheaded tiger in the Chandrapur forest range in the neighboring state of Maharashtra. The big cat had been chopped to bits and the paws were missing.
Chhindwara divisional forest officer Ashok Kumar told TOI that killing implements were recovered from the gang members.
We have recovered a metal trap, a knife, sharp iron rods, hammers, wires and wooden rods among other things used to kill tiger from their possession. After trapping the big cat, the modus operandi of poachers is that they put the sharp iron rod inside striped animal's mouth to kill him.
The tiger's body is beaten to "loosen its skin", which is removed with a "specially-designed knife" — also found among the gang's supplies.
The suspects were identified as Sanjesh of Shivpuri, Zilendar Giri of Sarguja in Chhattisgarh, and Rai Singh, Dharma, Dhara, Ishwar, Jorawar and Kismat, all from Chhitorgarh in Rajasthan. According to dailybhaskar.com, ten additional suspects have been detained near the Panna Tiger Reserve; names were not released.
Forest guards in the Indian state of Maharashtra have been given the nod to shoot tiger killers on sight, without legal interference by human rights activists.
---
Image © iStockphoto.com
Comments
comments