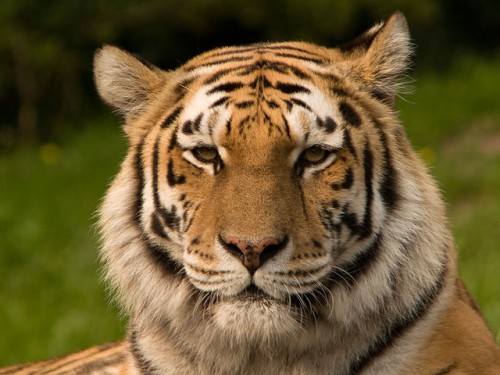 The tiger trade in South Africa is growing with exports of tiger trophies, skins and live tigers — and of course, unsuspecting tourists lured by those notorious "cub petting" schemes.
As of July 2015, the wildlife trade monitoring network TRAFFIC found there are more than 280 tigers kept across 44 facilities in South Africa*. There is scant regulation in place to properly monitor tiger trade in South Africa. Private tiger mills operate with little or no oversight.
"Several permits for the keeping, breeding and exhibition of Tigers have been issued in South Africa. Many of these permits were issued to private collectors and are not linked to any zoological, research, tourism or educational institution. Legislation in South Africa is extremely fragmented and renders very little protection to these non-indigenous animals without a regulatory framework."
Some private enterprises breed tigers and lure patrons to interact or have a photo taken with the cubs for a fee. These businesses seem to have a constant supply of baby tigers. For example, at least one facility in Gauteng province claims to be breeding Siberian tigers, Bengal tigers and "white tigers".
Video showing tourists getting their five minutes of interaction with tiger cubs in South Africa:

As is the case with South Africa's lion farms, the fate of these "tame" tigers, once they reach maturity, is unclear.
However, on a wildlife trade research trip to Vietnam in November 2012, two adult tigers believed to be imported from South Africa were seen pacing back and forth in a small enclosure at Bao Son zoo in Hanoi.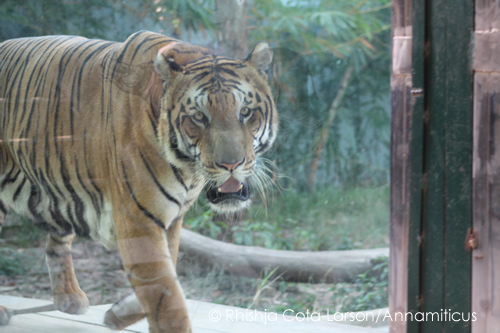 A significant number of tigers — more than 50 — are reportedly kept by a Vietnamese national in the North West province. TRAFFIC researchers note that this operation is not registered with CITES, and if the big cats are indeed being bred for international trade, this is in violation of CITES Resolution Conf. 12.10, which requires registration of Appendix I breeding facilities operating for commercial purposes. There is also the matter of CITES Decision 14.69, which requires such facilities to "implement measures to restrict the captive population to a level supportive only to conserving wild tigers; tigers should not be bred for trade in their parts and derivatives". And finally, Resolution Conf. 12.5 (Rev. CoP16) urges "Parties and non-Parties on whose territories tigers and other Asian big cat species are bred in captivity to ensure that adequate management practices and controls are in place to prevent parts and derivatives from entering illegal trade from or through such facilities."
Two tiger facilities in South Africa claim to be involved with tiger "rewilding" and conservation: Tiger Canyons ("To create free ranging self-sustaining populations of tigers in the hands of private enterprise in and out of the Asian Continent") and Save China's Tigers ("The Project is one of the first for the Chinese government and their conservation initiatives"). Both are located in the Free State.
Gauteng and North West provinces stand out as providing ample opportunity for private operators to conduct all sorts of nefarious tiger business under the Transvaal Nature Conservation Ordinance 12 of 1983, which "only deals with the import and release" of tigers. In other words, there are no regulations in place regarding possession of tiger derivatives, processing carcasses, or the sale or trade in carcasses and derivatives.
"This implies that all other activities such as hunting, processing and the sale of body parts within South Africa is not regulated or monitored. No information is generated by the current regulatory system on the statistics of Tigers in captivity, mortalities and the subsequent management of carcasses."
Researchers were informed by conservation officials in the North West that "the province has had many inquiries from people wanting to hunt tigers". Officials believe the bones of trophy hunted tigers will be traded.
"When questioned on how the province handles the management of Tigers given its CITES Appendix I status, the response was that Tiger management is not regulated — hence a person can hunt a Tiger if they so want."
The Free State has issued permits to export 11 tiger skeletons, however, "up to the end of 2011, there were no records in the annual CITES reports provided by [Department of Environmental Affairs] of any Tiger bones being exported".
"These reports of permits to export Tiger bones should be examined when South Africa compiles its 2012 CITES report."
Permits for new tiger breeding facilities are supposedly no longer issued in the Free State, and there is concern that this "has led, like the Lions, to breeders shifting their operations to the North West" in order to take advantage of lax regulations.
Most of the tiger trade recorded in South Africa consists of live tigers. During 2006 – 2011, a total of 82 tigers were exported from South Africa:
Free State: 25
Gauteng: 6
KwaZulu-Natal: 16
Limpopo: 10
Mpumalanga: 14
North West: 11
The question of live tiger exports was raised with the Department of Environmental Affairs, and a document showing a list of sellers/exporters was originally posted at http://environment.gov.za/sites/default/files/question767.pdf, but seems to have been removed. The document can now be viewed below:
Despite the export of 13 tiger trophies and six skins, TRAFFIC notes that "there are no records of hunts in the national consolidated hunting reports". Yet an undated photo which has since been removed from the Gotsoma Safaris website shows a tiger which appears to have been killed in a bow hunt.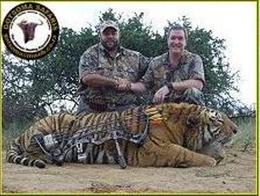 Three provinces declared a total of 13 tiger trophy exports (2006 – 2011):
Free State: 7
Mpumalanga: 5
KwaZulu-Natal: 1
Two provinces declared the export of six tiger skins (2006 – 2011):
North West: 1
Free State: 5
"Given the demand for Tigers in East-Southeast Asia, Tigers may face some future risk of exploitation for market-driven consumptive purposes by a few breeders."
South Africa's tiger trade is a disturbing issue, and it is likely that parties involved with live tiger exports and trophy hunting will attempt to keep information from the public eye. We say it is time for transparency and robust monitoring of South Africa's tiger trade — even though what will be revealed is sure to be unpleasant.
---
* Williams, V.L., Newton, D.J., Loveridge, A.J. and Macdonald, D.W. (2015) Bones of Contention: An Assessment of the South African Trade in African Lion Bones and Other Body Parts. TRAFFIC, Cambridge, UK & WildCRU, Oxford, UK
Comments
comments