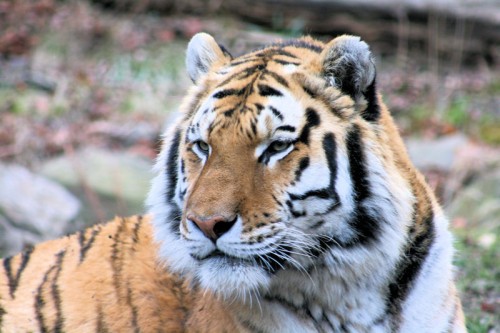 South Africa's captive-bred tigers seem to be making their way to surprising places.
For example, between 2000 and 2010, South Africa exported at least 28 tigers to Botswana and 36 to UAE.
In addition, 16 tigers were killed by trophy hunters in South Africa during this time period (see "Infographic: Live Tigers, Tiger Trophies and Skins Exported from South Africa, 2000 — 2010").
Regarding the steady influx of tigers into Botswana from South Africa, Dr. Pieter Kat of Lion Aid recently told the Mail & Guardian that "the figures indicate that South African breeders are using Botswana as a laundering point for their wildlife trade".
He added that although 11 of the 28 tigers were returned "either because they were refused entry or were confiscated by authorities", the final tally of 17 tigers to Botswana is troubling.
Exporting a large number of tigers to UAE is also cause for concern, Dr. Kat pointed out, because it is "a well-known staging point for the illegal trade of wildlife from Africa".
Indeed, an ivory seizure earlier this year in Sri Lanka was actually headed for Dubai, while the final destination of most ivory is China or Thailand.
Tigers bred in captivity can be exported with appropriate permits and Dr. Kat noted on his blog that this loophole is being exploited by breeders in South Africa.
South Africa absolves itself of any blame by invoking the right of private captive breeders to trade their products on the international market – but South Africa also facilitates this trade by supplying the necessary export permits.
It was revealed earlier by South Africa's Department of Environmental Affairs that some of the country's captive-bred tigers were sold to Vietnam, a country heavily implicated in the illegal tiger trade.
South Africa has managed to capitalize on the scarcity of tigers by providing lion bones to the traditional Chinese medicine industry as a substitute for tiger bones, which certainly raises questions about its predator breeding businesses.
The population of wild tigers has dwindled to an appalling 3,200, thanks to China's refusal to curb demand for tiger parts.
---
Image by Sujit kumar via Wikimedia Commons
Comments
comments