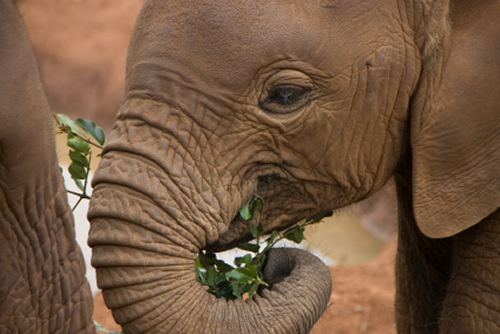 Elephants are under extreme pressure from the thriving ivory trade in China and Thailand, while unsustainable human population growth is taking its toll on elephant habitat.
In celebration of these magnificent mammals, here are twelve things you might not know about elephants — enjoy!
Elephant fact 1: There are two recognized subspecies of African elephant – the savannah elephant (Loxodonta africana) and the forest elephant (Loxodonta cyclotis). There are four subspecies of Asian elephant – the Indian elephant (Elephas maximus indicus), Sumatran elephant (Elephas maximus sumatrensis), Sri Lankan elephant (Elephas maximus maximus), and Borneo pygmy elephant (Elephas maximus borneensis).
Elephant fact 2: African elephants are the largest land mammal, reaching from 8.2 feet (2.5 meters) to 13 feet (4 meters) at the shoulder. Asian elephants range from 6.6 feet (2 meters) to 9.8 feet (3 meters) at the shoulder. Elephant life spans range from 60 years for the Asian elephant up to 70 years for the African elephant.
Elephant fact 3: Elephant pregnancies are longer than any other mammal – nearly 22 months. A newborn elephant weighs about 200 pounds ( 91 kilograms) and stands about three feet (1 meter) tall.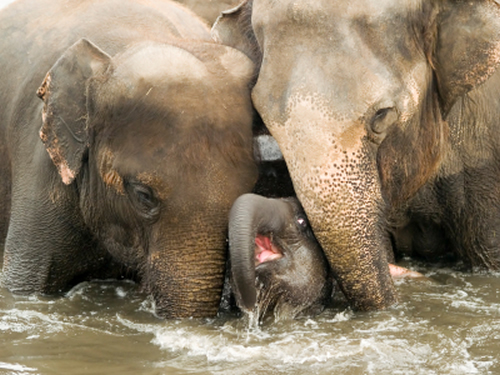 Elephant fact 4: Elephants form small family groups of "aunties" and sisters around an older matriarch. The groups consist of three or four offspring, along with their calves. Orphaned calves are usually adopted by a lactating female or may be nursed by several females.
Elephant fact 5: The elephant's trunk contains around 100,000 different muscles, and is used for smelling, breathing, trumpeting, drinking, caressing, carrying, and grabbing objects. The sensorimotor abilities of the trunk are extensive, allowing delicate manipulations similar to a primate's finger and thumb. African elephants have two finger-like tips on the end of their trunks, and Asian elephants have one.
Elephant fact 6: Elephant tusks are actually an elongated tooth (incisor), with about a third of the length hidden inside the skull. The largest recorded tusk was 138 inches long and weighed 214 pounds. However, because tusk size is inherited, such enormous tusks are not found on elephants today. Hunters and wildlife traffickers have taken the elephants with the largest tusks, thus removing the trait of extraordinary tusk size from most elephant populations.
Elephant fact 7: Elephants can control their body temperature with their ears. As they flap their ears, blood circulates through the many veins, then returns to the head and body about 9 degrees cooler. Ears are also used to signal alarm or anger when they are brought forward and fully extended.
Elephant fact 8: Researchers discovered that elephants are the only land mammal (other than primates) capable of vocal learning – the ability to imitate sounds. Elephants have learned how to chirp, purr, hum, croak, and whistle. One elephant reportedly learned to imitate the sound of a truck engine – and another is said to imitate the commands of his human keeper.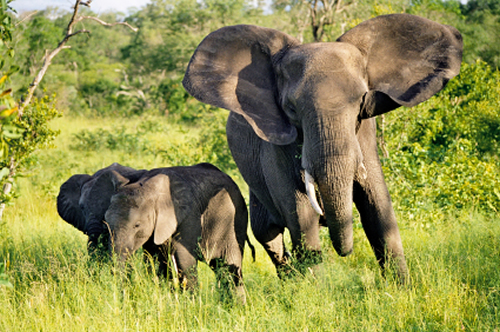 Elephant fact 9: Elephants use and even manufacture simple tools. They use logs to neutralize electric fences, and they pick up objects such as logs and rocks to throw at opponents. Elephants use leafy branches as fly switches, while selecting short, sturdy branches to remove ticks from themselves. Researchers also found that Asian elephants even modify longer branches in order to create the "ideal" fly switching length.
Elephant fact 10: Elephants grieve. There is recorded evidence of elephants showing thoughtful interest in dead elephants, often fondling and examining bones and tusks.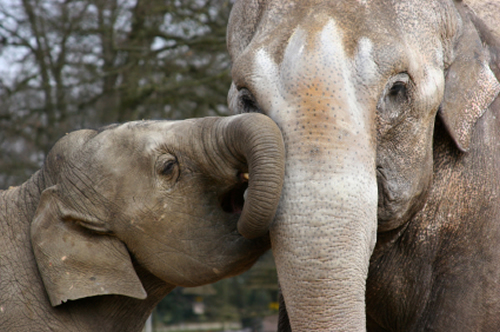 Elephant fact 11: Asian elephants have been domesticated for about 4,000 years. However, African elephants are not easily domesticated.
Elephant fact 12: Elephants' closest known relatives are dugongs and manatees, hyraxes, and aardvarks.
Elephants in a modern world
Human population growth and the resulting habitat loss, along with human-elephant conflict, has made it nearly impossible for elephants to survive outside of protected areas. An out-of-control demand for ivory – and the purchasing power of ivory consuming nations such as China – is a revived threat to these majestic, intelligent creatures.
At the turn of the 20th century, there were a few million African elephants and about 100,000 Asian elephants. Today, there are an estimated 450,000 – 700,000 African elephants and between 35,000 – 40,000 wild Asian elephants.
Learn more about the elephant situation: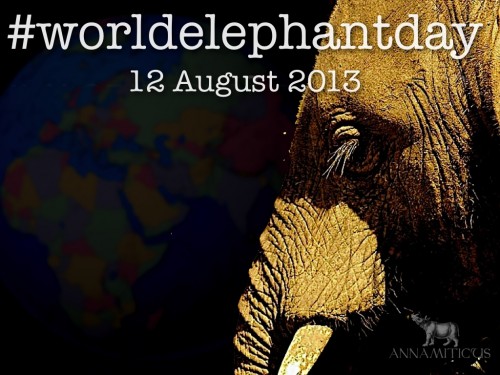 ---
Images © iStockphoto.com; World Elephant Day image © Annamiticus
Adapted from Elephants! 12 Things You Didn't Know, Plus Photo Gallery! by Rhishja Cota-Larson, originally published 15 October 2009 on Ecolocalizer.
Sources:
Comments
comments