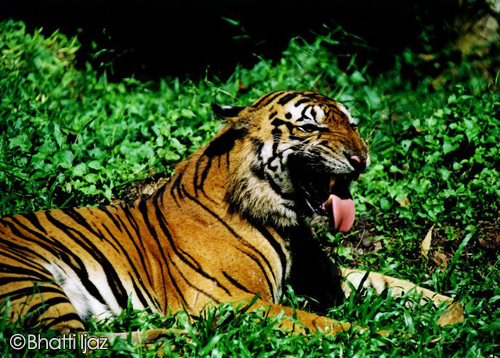 Although South Africa's predator breeders usually specialize in lions and leopards (for lucrative trophy hunts and "cub petting" tourist attractions), some are also in the tiger business.
One example in particular seems to highlight problem areas, such as loose regulation, inefficient monitoring, questionable permit issuance, and a lack of transparency — all of which enable predator breeders to cash in on a questionable market.
Research reveals JJ "Kobus" van der Westhuizen (a well-known Free State predator breeder and owner of "Letsatsi La Africa") as one of several parties that has exported tigers from South Africa in recent years.
Apparently, van der Westhuizen was issued permits in 2009 to export an unspecified number of live tigers to a "HRH Sheik Ahmed Naser" in the United Arab Emirates (UAE) — a transit route increasingly used by wildlife traffickers to deliver contraband to consumers in East and Southeast Asia.
A brief look at van der Westhuizen's recent history raises concerns.
In 2010, South African news program, Carte Blanche exposed Letsatsi La Africa for selling and exporting lion bones. According to the report, van der Westhuizen had applied for and was granted CITES permits enabling him to euthanize at least 20 lions, in order to sell them for their bones.
Last year, it was revealed that van der Westhuizen was supplying lion bones to the same Laos-based "client" (Xaysavang Trading Export-Import) as (alleged) rhino horn and lion bone syndicate head, Marnus Steyl.
According to an IOL report, van der Westhuizen was unable to obtain the permits to import two white tigers from a Canadian zoo in 2008 and apparently (somehow) arranged for "Jukani Predator Park" to import, breed, and care for the animals on his behalf — all under the agreement that van der Westhuizen retained ownership of the tigers and any offspring they may produce. That is, until it was revealed that at least one of the tigers suffered a health condition caused by inbreeding (as many white tigers do) and could not ethically be used for breeding, which sparked a heated argument between Jukani and van der Westhuizen. In an Associated Foreign Press report, one of the Jukani Predator Park's owners seems to have expressed concern that, if the animals were returned to Letsatsi, they could end up having their body parts sold into black market trade for traditional Chinese medicines.
Van der Westhuizen apparently told Carte Blanche in 2002 that he had sold a controversial lion to "Stone Safaris" operator, Buks Steenkamp. Mail & Guardian later linked Steenkamp and his relative, Pieta Steenkamp, to suspected rhino horn trader (and game capturer and co-owner of Waterberg Game Dealers), Coena Smith. The Steenkamps were also fined for their involvement in a game theft scandal that unfolded in Limpopo a few years ago, according to a 2007 Carte Blanche report.
A 2007 Dawn article reported that Letsatsi allegedly sold two tigers and six lions to suspected wildlife smugglers who apparently used falsified permit documents to import some of the animals into Pakistan.
Surprisingly, van der Westhuizen offers nature education courses to schoolchildren through his predator breeding business, according to the South African publication, Landbou.
Further reading:
---
Image ©Bhatti Ijaz
Comments
comments