By Andreas Wilson-Späth, courtesy of Conservation Action Trust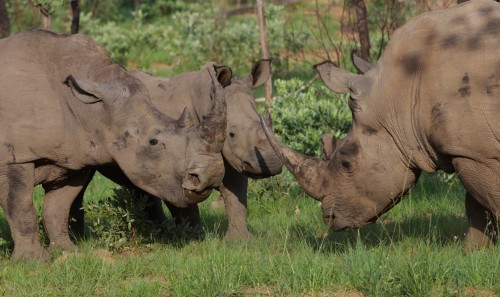 This week, investigative journalist and author Julian Rademeyer revealed that the decision to submit a rhino horn trade proposal to the Convention on International Trade in Endangered Species (CITES) had been "hidden away" in the National Treasury budget for the Department of Environmental Affairs (DEA).
The 2016 Estimates of National Expenditure for Environmental Affairs, states that "South Africa will submit its rhino horn trade proposal at CITES COP 17".
This appears to pre-empt the findings of the Committee of Inquiry into the feasibility of legalising the international trade in rhino horn, appointed by the Minister of Environmental Affairs, Edna Molewa, last year. Molewa has, however, previously stated that government will only take an official position on the matter once the committee has concluded its work and made its recommendations.
The statement refers to the 17th Conference of the Parties to CITES which will take place in Johannesburg from the 24th of September to the 5th of October 2016.
According to the National Treasury document, the proposal to lift the ban "aims to reduce rhino poaching, as it promotes the legal selling of rhino horn. If this were implemented, the sales could generate significant revenue to supplement conservation funding".
Last May, a group of international wildlife conservation experts warned that even the suggestion of opening the global trade in rhino horn would almost certainly increase the risk of poaching.
According to the International Union for Conservation of Nature, at least 1,338 rhinos were killed by poachers across Africa in 2015, a figure that has increased for the sixth year in a row.
If South Africa were to table a proposal to lift the ban on the international rhino horn trade at the CITES COP 17 "they are going to lose badly", says Will Travers, President of the Born Free Foundation. He believes that there will not be enough support from other countries to carry such a proposal if it comes to a vote.
"I can think of maybe 15 to 20 countries that will support the motion, but even if it was 30, that would be nowhere near enough to achieve the required 66% out of around 160 attending countries." He warns that the reputational damage for the host country could be substantial if the conference "was remembered for South Africa getting badly beaten over a very ill-conceived proposal which should never have come to the floor in the first place".
DEA spokes person, Eleanor Momberg did not dispute the statement and had promised a press release on this disclosure but nothing had been received at the time this article was written.
---
Comments
comments