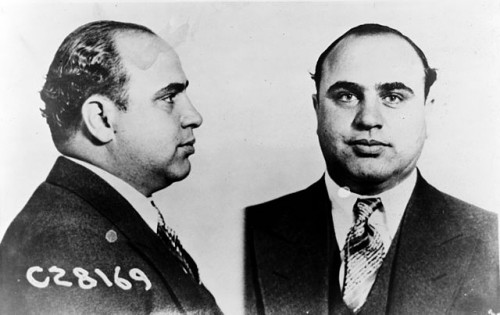 I wouldn't want too much to be read into that title (which isn't a deliberate reference to gangster slang) but, yes, I do wish to discuss eliminating organized wildlife trafficking and those who control and profit from it.
We all agree this needs to be done and I have seen various methods suggested as the way forward, including:
increased follow-up investigations after interceptions of smuggled contraband;
intensified use of controlled deliveries;
improved intelligence-gathering, analysis and dissemination;
more targeted recruitment and use of informants;
better communication, collaboration, cooperation and coordination;
combat corruption more effectively; and
follow-the-money.
I suppose another way might be to put a sophisticated tracking device into something appropriate, like a fake elephant tusk perhaps, and feed it into the illicit trade chain. But it would probably be advisable not to announce to all-and-sundry, including smugglers and criminals at large, that you are using such a technique; via one of the world's most famous magazines or in broadcast documentaries. I found during my Police career that it was often best not to tip-off the opposition.
Facetiousness aside, the above is not an exhaustive list of methods but each offers the important potential to identify, and ideally break, the links in the criminal chain that stretches from the poaching site to the final consumer.
A great deal of effort is being allocated at the moment to build nations' capacity to use some of these techniques and it often doesn't get enough recognition. CITES is making sure the most relevant countries are creating national action plans to deal with ivory trafficking[i]. INTERPOL is coordinating work across a whole range of endangered species and other environmental crimes[ii]. The UN Office on Drugs and Crime has developed a global programme related to wildlife and forest crime[iii]. Experts from the World Customs Organization are providing guidance to intercept containerized smuggling[iv]. And the World Bank is helping bring decision-makers together at diplomatic and political levels[v]. If anyone with a bucket-load of money wants to support those endeavours, help fund the International Consortium on Combating Wildlife Crime.
One of the great things about being retired is that one can sit on the sidelines, observe what is happening[vi], hopefully assess it objectively and seek to identify gaps[vii]. I do try and be constructive in my posts and hopefully, occasionally, one person or organization will stop and say to themselves, "Oh, I hadn't thought of that".
It occurred to me that a shortcoming with the methods and techniques listed earlier is that they tend to tell us who is behind the trafficking and poaching … but what happens next?
I know only too well from my time as a Detective that identifying who is responsible for something and getting that person into court can be worlds apart. And that is, to my mind, often the crux of the problem when it comes to combating organized crime. One hopes that all the ongoing capacity-building will enable the names of the currently faceless to become known.
However, are we ready for the next, really tricky, stage of law enforcement? I think we can draw important lessons from past achievements.
If one examines, for instance, the way that the FBI and US prosecutors tackled organized crime in the past[viii], many of their successful cases came about through 'turning' mob members. Surveillance (electronic and human), covert and sting operations, infiltration of undercover operatives, using informants, and in-depth investigations all played their part. But the most effective probes into organized crime, the ones which resulted in the demolition of crime families, groups and networks, regularly involved persuading an 'insider' to become a witness for the prosecution. The battles which the Caribinieri have won[ix] against Italian Mafia groups often needed that too. The insights to and understandings of organized crime, and how it conducts business, which were gathered at the same time, were also beneficial in countless ways.
It's a British term — Supergrass — which is often used to describe the turncoat who will stand in a witness box and betray his former friends and associates. Persuading a criminal to do that isn't easy but his or her evidence invariably can have devastating effect. It is a somewhat murky area of law enforcement and it has been alleged, in the UK previously for example, that cops have sometimes used foul and not fair means to encourage people to give evidence. In the American and Italian prosecutions, it often meant offering immunity from prosecution to individuals responsible for some horrendous crimes; for instance mob 'hitmen' have been excused from charges or promised significantly-reduced terms of imprisonment.
Many prosecutors, defenders, judges, and some of the general public, have grave reservations about using this technique. But it remains one of the most powerful weapons in the enforcement armoury. Are we ready to deploy it against wildlife criminals?
I raise this issue now because there are things a country has to do to be ready. It helps immensely if your prosecution authority has the legal or judicial basis to engage in plea-bargaining. It is almost essential to have witness-protection schemes in place[x]. Many of the countries that I have visited, particularly in the developing world, have neither. A lot of those countries are engaged in reviewing their existing laws and drafting new ones at the moment.
'Be Prepared' has always been an excellent motto for the (Boy) Scouts. It is equally appropriate for law enforcers and prosecutors.
PREVIOUS: