Courtesy of U.S. Department of the Interior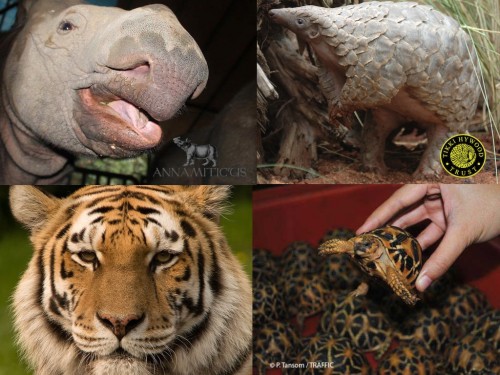 Recognizing that wildlife trafficking is an urgent conservation and national security threat, the U.S. Departments of the Interior, Justice and State today released the implementation plan for the U.S. National Strategy for Combating Wildlife Trafficking.
The agencies are Co-Chairs of the President's Task Force on Combating Wildlife Trafficking which comprises seventeen federal agencies and offices.
The implementation plan builds upon the Strategy, which was issued by President Obama on February 11, 2014, and reaffirms our Nation's commitment to work in partnership with governments, local communities, nongovernmental organizations, and the private sector to stem the illegal trade in wildlife.
Wildlife trafficking threatens a staggering array of terrestrial, freshwater, and marine species, including but not limited to: elephants, rhinos, tigers, sharks, tuna, sea turtles, land tortoises, great apes, exotic birds, pangolins, sturgeon, coral, iguanas, chameleons, and tarantulas. The scourge of wildlife trafficking also encompasses trafficking of fisheries products and related threats to food supplies and food security. It is also well‐ established that wildlife trafficking is facilitated and exacerbated by illegal harvest of and trade in plants and trees, which destroys needed habitat and opens access to previously remote populations of highly endangered wildlife, such as tigers.
Incorporating recommendations from the Secretary of the Interior's Advisory Council on Wildlife Trafficking, the framework will guide and direct new and ongoing efforts of the Task Force in executing the Strategy.
Building upon the Strategy's three objectives – strengthening enforcement, reducing demand for illegally traded wildlife, and expanding international cooperation – the plan lays out next steps, identifies lead and participating agencies for each objective, and defines how progress will be measured.
Some of those steps included in the Implementation plan are:
Continuing efforts to implement and enforce administrative actions to strengthen controls over trade in elephant ivory in the United States;
Leveraging partnerships to reduce demand both domestically and abroad; and
Strengthening enforcement capacity, cooperation, and partnerships with counterparts in other countries.
The President's Task Force to Combat Wildlife Trafficking has made significant strides toward meeting the objectives since the National Strategy was announced one year ago. A fact sheet describing some of these important steps related to law enforcement, demand reduction and international cooperation can be found here.
Download the Implementation Plan.
---
Comments
comments