Courtesy of Conservation Action Trust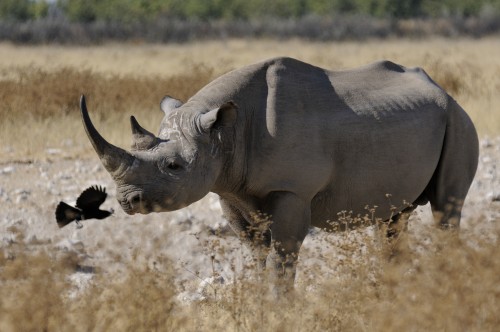 Cape Town – 29 January 2015 – The Save the Rhino Trust (SRT) of Namibia has launched an internal investigation into the possibility that some of its own staff have been colluding with poachers in the Kunene region of Namibia.
The SRT Board finally took this action after receiving a letter in mid-December which clearly demonstrated that poachers couldn't operate in the Kunene region – 15 million acres of arid harshness – without a thorough knowledge of the terrain and the rhinos within it. The letter was addressed to SRT CEO Simson !Uri-#Khob who has now stepped aside as CEO although he remains employed by the SRT.
Under the direction of board member Dr Axel Hartman, who will be running the SRT from February, the SRT is now extending its remit from monitoring to anti-poaching.
As reported in the Daily Maverick last week, Namibia Director of Tourism Sema Shikongo acknowledges that a culture of secrecy is hampering that country's anti-poaching efforts. The number of Kunene black rhinos has never been made public, supposedly to avoid attracting attention. It seems this has provided a convenient veil behind which poachers have operated quite freely.
Fears are that the SRT crisis may be the thin edge of the wedge, and that a much bigger political problem exists in the Kunene. An investigation conducted from July 2014 highlighted cracks in the relationship between communal farmers and conservation and tourism operators, as well as abuse of office by local officials. Namibia's Community Based Natural Resources Management (CBNRM) has long been held up as the conservation success story of Africa.
Given the size of the Kunene ecosystem in the Namib, the world's oldest desert, it is obviously difficult to enforce anti-poaching laws and preserve natural resources. It is the last free-ranging stronghold in Namibia for the desert-dwelling black rhino, making this poaching crisis all the more tragic.
The Ministry of Environment and Tourism's (MET) rhino experts, Dr Pierre du Preez and Pietie Beytel, reported that in 2013 and 2014, 43 Kunene rhino died, 17 of which were reported as poached.
This excludes four rhinos poached at nearby Uukwaluudhi Lodge late August and three confirmed cases in the Etosha Park. But of 26 non-poaching mortalities (15 in 2013 and 11 in 2014), 10 died of unknown causes in the past year alone, according to the data.
There is an urgent need for the SRT to openly investigate the allegations and act decisively should they prove true, in order to prevent further poaching.
---
Comments
comments