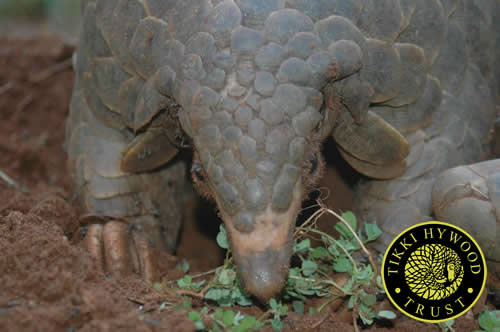 During the first six months of 2014, at least 17 pangolin trafficking incidents were reported across six Asian countries: China (including Hong Kong), India, Indonesia, Nepal, Pakistan, and Thailand.
As of June 18, the volume of pangolin scales seized per incident ranged from two (2) to 2,340 kilograms (2.6 tons). A total of 23 suspects were arrested, including two women. Cars, pickup trucks, motorbikes, mail, and maritime freight containers were used to transport the bodies and scales of thousands of pangolins. A particularly worrying indicator is that two seizures of scales in Hong Kong — totaling just over three tons — apparently came from African pangolins.
In just 168 days, nearly four tons of pangolin scales and more than 1200 individual pangolins were confiscated from wildlife traffickers.
Scales: 3,592 kg (3.96 tons)
Bodies: 991
Live pangolins: 247
300 kg comprised of scales, tails, and entrails
January 2014
Nepali police arrested a woman identified as Mana Kumari Rai for attempting to smuggle 14 kg of pangolin scales, hidden in a sack of dried fish, across the border to Tibet. She claimed to have obtained the scales in Dhankuta and that this was not her first time, according to eKantipur on January 5. And on January 30, the Himalayan Times reported that police in Kathmandu arrested a suspect identified as Dipendra Rana Magar with pangolin scales.
In the town of Dandeli in the Indian state of Karnataka, forest officials seized two kilograms of pangolin scales and arrested Nagappa Wakod, Tukaram Wakod and Maruti Dundashi. The scales were confiscated from Nagappa Wakod's shop during a joint raid with Anashi Tiger Reserve authorities. This incident was reported by SahilOnline on January 9.
On Monday, January 20, an estimated 300 kg of pangolin parts comprised of tails, entrails and scales were seized from a suspect identified by Radar Sampit as Yunendi. He said he planned to sell the contraband in South Kalimantan and Java, Indonesia.
Police in China's port city of Fangchenggang seized 39 live pangolins from a car and took one suspect into custody following an early morning traffic stop on January 24.
March 2014
In India, two individuals identified by e-pao.net as Sinam Shanti and Hemam Deben from Bishnupur were apprehended by Assam Rifles at Tengnoupal along Imphal-Moreh road after a vehicle (Maruti van, ML-05G/5284) inspection revealed they were transporting pangolin skins. The incident occurred on March 11. Ten days later, Assam Rifles in Imphal, Manipur, apprehended two smugglers and seized 18.3 kg of pangolin scales, along with 1.250 kg deer horns, cell phones and Indian and Myanmarese currency.
On March 12, AntaraNews reported that an investigation is under way by the Central Kalimantan Conservation and Natural Resources Authority (BKSDA) regarding an unknown sender (name, no return address) who attempted to mail 73 kg of pangolin scales to a "fictitious destination" in Jakarta.
In Vietnam, Ninh Binh Provincial Police discovered and seized 52 pangolins from the back of a pickup truck (plates 36C – 135.28) on March 28. The pangolins were still alive (watch the heart wrenching video) at the time.
And on the last day of March, Pakistan customs officials seized 145kg of pangolin scales at Benazir Bhutto International Airport, Islamabad, from two Chinese nationals.
April 2014
Environmental Police in Vietnam's Thừa Thiên–Huế Province seized one pangolin following the inspection of a cage on the back of a motorbike (plates 75H3-1945). The cage also contained other wildlife, including cobras and turtles. According to phunuoline.com, the animals would be released.
May 2014
On May 1, AntaraNews reported that police in Medan (North Sumatra, Indonesia) arrested two men for smuggling four pangolins. Just three weeks later, 35 pangolins were seized and two suspects were arrested at a roadblock in Riau. The smugglers were headed to Medan, according to TRAFFIC Southeast Asia.
Chinese authorities foiled an attempt to smuggle 956 pangolin carcasses through Guangdong province on May 14. The driver was arrested and the seized pangolins were reportedly destroyed.
Thai police discovered 130 live pangolins in a warehouse in the Lat Lum Kaeo district of Pathum Thani Province. Three suspects identified by the Bangkok Post as Mrs. Daeng Srilao, Prachuap Nooklab, and Nawachai Nooklab were arrested. Mr. Prachuap told police he "had done this several times". The incident occurred on May 16 and the pangolins were reportedly transferred to a wildlife rehabilitation center.
On May 18, police in Mong Cai (Quang Ninh Province, Vietnam) seized 21 pangolins weighing a total of 85.5 kg. Most of the pangolins were still alive.
Hong Kong Customs authorities seized just over one ton of pangolin scales from a shipping container which arrived from Kenya on May 28.
June 2014
Less than a month later, on June 11, Hong Kong Customs officers seized 2,340 kilograms — over three tons — of pangolin scales in a shipment which arrived from Cameroon via Malaysia. Although a "Malaysian businessman" was arrested two days after the discovery, he was released on bail.
What's next for pangolins?
At CoP16, Asian pangolin range states were requested to "compile information on the conservation of and illegal trade in Asian pangolins, and their efforts to address such trade" and to report their findings at the 65th meeting of the CITES Standing Committee in July (SC65 agenda). The findings will be reviewed by the Standing Committee. Only three pangolin range states — China, Pakistan, Thailand — and the EU submitted reports to the CITES Secretariat. The CITES Secretariat notes the following in its report on enforcement matters:
"Enhanced enforcement efforts aimed at addressing illegal trade in pangolin specimens are urgently needed, and Parties are encouraged to take urgent action to implement measures to combat this growing threat. There also seem to be a lack of awareness of the conservation impact of illegal pangolin trade, and Parties are encouraged to engage in education and outreach efforts, similar to those highlighted in the report received from Pakistan."
Annamiticus believes that in order to protect pangolins, it is imperative that all eight species are uplisted to CITES Appendix I, which would ban international trade and help streamline enforcement. The current Appendix II listing, although it includes a zero export quota for wild-caught Asian pangolins, leaves too many loopholes wide open for traders to exploit. Loopholes complicate the application of wildlife laws. These trade loopholes need to be closed — and laws must be enforced — or pangolins will be plundered to extinction.
---
Comments
comments