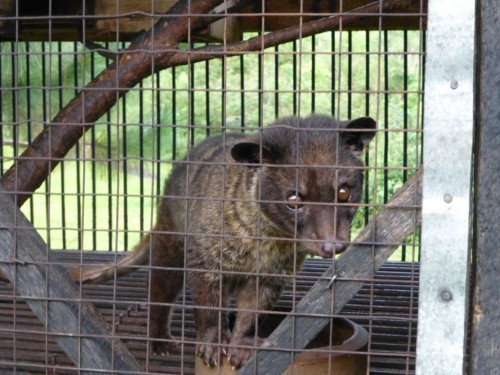 An increasing number of shops and hotels are no longer selling Kopi Luwak coffee – made from beans found in civet feces – after an investigation revealed the animal welfare abuses inflicted on the protected species during its production.
As thirst for the cruel coffee has increased over the past two decades, wild Common Palm Civets have been captured, caged and malnourished in veritable civet concentration camps across Asia.
"From what we understand, there are many farms in Indonesia, The Philippines, Thailand, Vietnam, and possibly in Cambodia and Lao as well… Sources report they are springing up all over the place," says Chris Shepherd of the wildlife trade monitoring network TRAFFIC.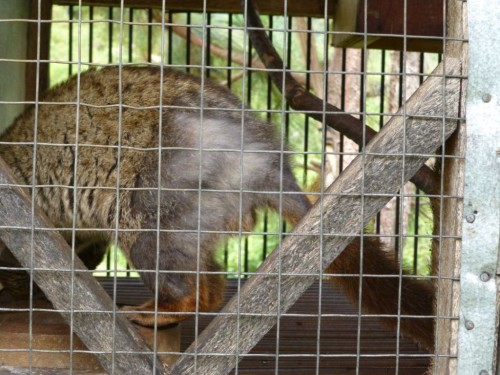 Civets in the factory farms showed clear signs of mental and physical stress: compulsive movements, fur loss, bloodied stools and malnourishment. All this is despite the species being classified "vulnerable" on the International Union for Conservation of Nature (IUCN) Red List.
In Indonesia, trade in the animal is restricted to a quota of 270 a year – 90 per cent of which must be exported outside of the country. Indonesia, however, is where the concentration and boom of civet farms has been most widely reported, illustrating how legislation intended to protect can easily become loopholes exploited by wildlife traders for extra profit.
Moreover, the lack of regulation enforcement leaves other, even rarer civet species vulnerable to economic exploitation.
"We have heard of other species of civets and ferret-badgers being used in the farms, Binturongs included. More surveys are urgently needed to get to the bottom of this," says Shepherd.
Will Duckworth, of the IUCN, agrees: "Binturongs species melt away in the face of even quite modest hunting levels, and I have heard reports of them also being brought into the farms. Were there to be a craze for Binturong coffee, this would be an absolute conservation disaster."
But the video (below) released after the investigation by animal welfare organization PETA, has sent shockwaves through the luxury goods industry, as it became apparent this speciality coffee came at a cost much higher than its US$300-a-pound label.
"Last month PETA Asia brought to our attention the information about the hidden abuses associated with the production of Kopi Luwak. Our hotel was not aware of the hidden cruelty and dangers associated with using civets for the production of the Kopi Luwak (civet) specialty coffee…. at InterContinental Hong Kong, we take our responsibility and commitment to being environmentally conscious very seriously."
As such, we removed Kopi Luwak from our Lobby Lounge menu, effective October 21, 2013," said Christoph Travniczek, Executive Assistant Manager – Food & Beverage, InterContinental Hong Kong.
The Grand Hyatt in Singapore, the Langham Place Mongkok Hong Kong, The Landmark Mandarin Oriental, Hong Kong and Harrods department stores in the UK have also since decided to drop civet coffee from their menus and product lists.
And we can expect to see more of this, says Ashley Fruno, Senior Campaigner, PETA Asia. "We're continuing to write retailers, so will have more to add to that list in the future." In fact, Mandarin Oriental (MO) revealed to Annamiticus that the only other MO property to stock the coffee – the Mandarin Oriental, Prague – will also cease selling the product in December 2013.
As long as awareness keeps spreading, studies are funded and legislation strengthened, there is hope for the civets, says Shepherd, but "sadly, funding for issues such as civets and other small carnivores, is lacking. These species are just not on the radar for most organisations or donors."
How to help:
---
Comments
comments