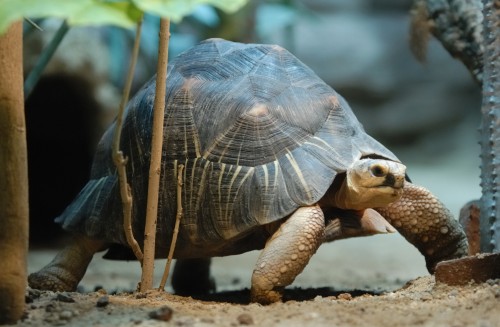 After two "unusually heavy" suitcases remained unclaimed on a carousel at Suvarnabhumi Airport, customs officials x-rayed the bags and discovered 423 baby Indian star tortoises (not radiated tortoises, as reported earlier).
Please note, I've updated this post, thanks to new information received from TRAFFIC Southeast Asia. The baby tortoises were actually Indian star tortoises (Geochelone elegans). This species is listed under CITES Appendix II, which allows for controlled trade only with appropriate permits.
The luggage arrived on Thai Airways flight TG 322 from Dhaka, Bangladesh, according to Thailand's matichonOnline. No suspects were arrested. Besides the Indian star tortoises, the bags also contained 52 black pond turtles, Geoclemys hamiltonii, classified as Vulnerable and listed under CITES Appendix I, which prohibits international commercial trade.
In September 2012, an Indian national was arrested at Bangkok's Suvarnabhumi International Airport after Thai authorities found 890 Indian star tortoises stuffed inside pillowcases and a suitcase. Tourist Police and Royal Thai Customs officers acted on a tip off and arrested the suspect, who had smuggled the baby tortoises into the country on a Thai Airways flight from Calcutta to Bangkok.
Tortoises and freshwater turtles are under tremendous threat. They are trafficked for consumption (food and folk remedies), and the exotic pet trade. One such species is the radiated tortoise (Astrochelys radiata), which is native to Madagascar, classified as Critically Endangered by the IUCN Red List of Threatened Species, and listed under CITES Appendix I. A joint media release issued in May 2013 by Wildlife Conservation Society, Durrell Wildlife Conservation Trust, Turtle Survival Alliance, Madagascar Biodiversity Partnership, Turtle Conservancy, Conservation International, and World Wildlife Fund warned that the trafficking of Madagascar's Critically Endangered radiated and ploughshare tortoises had "reached epidemic proportions".
The organizations reported that more than 1,000 radiated and ploughshare tortoises were confiscated from smugglers in the first three months of 2013. They are urging Malagasy officials to "take a hard stand against illegal trafficking" and recommend that smuggling destinations such as Thailand implement "public education efforts and better enforcement" to combat these criminal networks.
For example, in March 2013, a Thai man identified as O. Visarnkol and a Malagasy woman, Clara Rahantamalala, were arrested at Suvarnabhumi Airport for smuggling 21 radiated tortoises and 54 ploughshare tortoises (Astrochelys yniphora), another Critically Endangered species. Visarnkol was out on bail for smuggling protected species at the time of his arrest.
Dr. Chris Shepherd, TRAFFIC Southeast Asia, told mongabay.com,"Releasing people on bail does not seem to be part of an effective strategy to reduce the smuggling and illegal trade."
As far back as 2008, a TRAFFIC survey found that the radiated tortoise was the "most abundant" species at the well-known Chatuchak market in Bangkok. Because radiated and ploughshare tortoises are in demand for the exotic pet trade, many are alive when confiscated and can be cared for by rescue centers. The Turtle Survival Alliance announced in September 2013 that the first of four planned tortoise rescue centers has been built in Madagascar.
---
Comments
comments