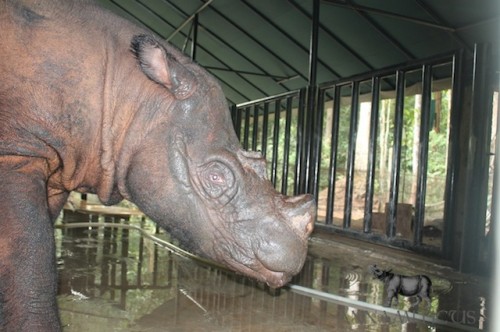 The Sumatran rhino population has declined over 50 percent in the last decade, leaving fewer than 100 individuals. In order to help save this species from completely disappearing, the Cincinnati Zoo will pair siblings Harapan and Suci in hopes of producing a calf.
The Cincinnati Zoo and the Sumatran Rhino Sanctuary in Indonesia are the only two facilities in the world that have successfully bred Sumatran rhinos in more than 100 years. Both Harapan and Suci were born at the Cincinnati Zoo, thanks to CREW (Conservation and Research of Endangered Wildlife), the zoo's state-of-the-art research facility dedicated to saving endangered plants and animals from extinction. Although the idea of inbreeding may seem strange, the Cincinnati Zoo explains that the alternative is to lose the Sumatran rhino.
Although the tenet at CREW is to maximize genetic diversity and avoid inbreeding, the species has dropped below 100 individuals, which forces scientists to produce more offspring as quickly as possible, or watch the species disappear altogether. No one necessarily wants to inbreed siblings, but it does occur naturally and has been documented in wild populations of many species.
Timing is also an issue for Suci, who reached sexual maturity three years ago. Female Sumatran rhinos develop reproductive pathology and lose their fertility if they do not become pregnant. Meanwhile, the Indonesian government is resisting efforts to exchange rhinos as part of a breeding program to enhance the current gene pools. Suci and her species simply cannot wait. Harapan is the only suitable mate for Suci at this time, and "a single generation of inbreeding does not carry significant risks and can be reversed as soon as the offspring are bred with unrelated individuals".
Andalas — the older brother of Harapan and Suci — was born in 2001. He was the first Sumatran rhino bred and born in captivity in 112 years. In 2007, Andalas was relocated to the Sumatran Rhino Sanctuary in Indonesia, where he mated with Ratu, who was born in the wild. On July 23, 2013, Andatu was born.
Sumatran rhinos once ranged from the foothills of the Himalayas in Bhutan and north-eastern India, through southern China (Yunnan), Myanmar, Thailand, Cambodia, Lao PDR, Vietnam, and the Malay Peninsula, and onto the islands of Sumatra and Borneo in Indonesia. This species was hunted relentlessly because of the use of rhino horns in traditional Chinese medicine. Besides the ever-present danger of being killed for their horns, the few Sumatran rhinos that remain are threatened by the continued destruction of their rainforest habitat for palm oil production.
Today, nearly all of the remaining Sumatran rhinos are found only on the island of Sumatra (Indonesia) with a just a few in Malaysia.
How to help Sumatran rhinos:
---
Comments
comments