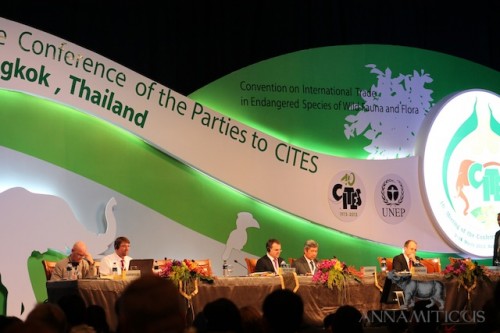 Parties to the Convention on International Trade in Endangered Species of Wild Fauna and Flora (CITES) rallied around Thailand's proposal to designate March 3rd as "World Wildlife Day" to raise awareness about the importance of conserving wildlife.
Speaking at the CITES 16th Conference of the Parties currently under way in Bangkok, the Thai delegate said World Wildlife Day "would help to promote national and international action for the conservation of the world's wildlife".
Several country representatives spoke up in favor of the proposal, with the Democratic Republic of the Congo noting that "World Wildlife Day" would serve to honor the memory of rangers who have been killed while working to protect the country's wildlife. India, Peru, Egypt, Guinea, China, and Venezuela made statements in support of the proposal. The US added that the establishment of a UN World Wildlife Day would promote the conservation of wildlife and Japan said it is "high time to bring public attention to wildlife".
However, there was far less consensus regarding Doc. 4.2 "Proposal to Improve Transparency of Voting During Meetings of the Conference of the Parties" submitted by Denmark on behalf of the European Union Member States acting in the interest of the European Union, and Doc. 4.3 "Proposed Amendment to Rule 25 on Methods of Voting — Use of Secret Ballots" submitted by Chile and Mexico.
Ireland, on behalf of the EU, stated strong opposition to secret voting on conservation issues, pointing out that the use of secret ballots makes it "impossible to determine" the basis on which decisions are made.
Transparency should be the order of the day.
The US reiterated its position as a "strong supporter" of transparency, noting that secret ballots "undermine the integrity of CITES" and that the Parties would benefit from an open and transparent process. India and Columbia also stated their support for increased transparency.
Mexico pointed out that the number of secret ballots on Appendices amendments have increased substantially, noting ivory trade and sharks in particular, adding that the CITES strategic vision encourages increased transparency and "secret ballots are not in the spirit of the Convention".
But Japan, frequently criticized for its use of "research loopholes" to continue its whaling activities, strongly disagreed, saying that "abstention will increase if secret ballots are not used". China, often at the center of controversy regarding illegal wildlife trade, agreed with Japan, adding that reducing the use of secret ballots would weaken the democratic process and threaten the integrity of CITES.
After the Parties' statements were heard, the Chairman stated that a consensus would not be emerging and that further discussion would be required on the transparency and secret ballot issues.
Annamiticus Founder and Executive Director Rhishja Cota-Larson is attending CITES CoP16. Our photo album is updated daily and can be viewed here.
---
Comments
comments