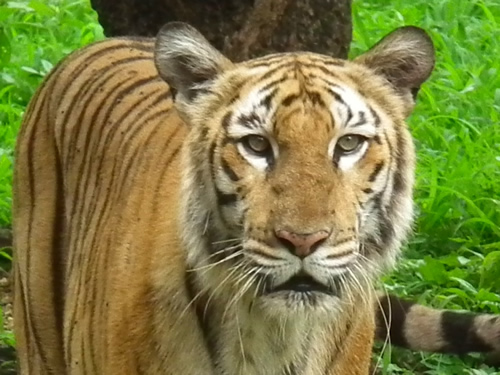 A female tiger named "Oni" was found dead in her enclosure at the Itanagar Zoo in Arunachal Pradesh, where intruders managed to shoot her in the head and carve up her body before security guards returned from a dinner break.
A necropsy revealed two bullet wounds from a .22 rifle in Oni's skull, according to NDTV. Although no arrests were made, three zoo employees have since been fired, and a forest guard suspended, in connection with Monday's tragedy.
In 2006, three tigers and a leopard were poisoned inside the Itanagar Zoo; all of cats except one tiger survived.
Following the post-mortem, Oni's body was burned on zoo property in the presence of police and a magistrate, presumably to keep her skin, claws, teeth and organs from entering the illegal trade in tiger parts.
Three years ago, Sheila the tiger was poisoned inside an Indonesian zoo. Sheila's skin and the body parts used in traditional Chinese medicine were taken by her killers. Two suspects were later arrested, but unfortunately received light sentences.
---
Image by Rameshng via Wikimedia Commons
Comments
comments