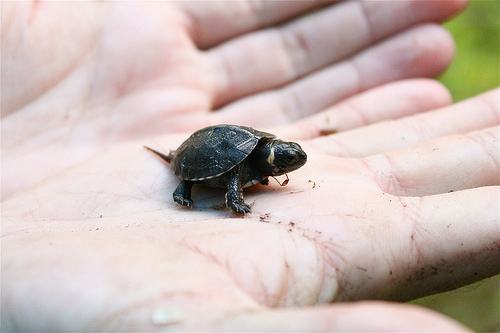 The bog turtle — protected under the Endangered Species Act since 1997 — is the smallest turtle in North America, reaching a maximum carapace length of just three to four-and-one-half inches.
Like so many species around the world, these tiny turtles are facing the loss, degradation and fragmentation of habitat from wetland alteration, development, pollution, invasive species and advanced plant growth. Their extreme cuteness also makes them victims of the illegal pet trade.
Fortunately for bog turtles in the state of Maryland, the Maryland Bog Turtle Partnership is lending a helping hand and working with private landowners to protect these little beauties.
The Partnership — which includes the U.S. Fish and Wildlife Service, U.S. Department of Agriculture's Natural Resources Conservation Service, Maryland Department of Natural Resources, and Environmental Defense Fund — has restored habitat at 27 sites on private lands and has permanently protected 6 sites through the Wetlands Reserve Program and two sites through the Maryland State Highway Administration.
Scott Smith of the Maryland Department of Natural Resources' Wildlife and Heritage Program explained that the Partnership has created a "positive synergy of bog turtle conservation".
This group has produced a positive synergy of bog turtle conservation that no one agency could have achieved alone. It has accentuated the strengths and talents of each respective agency in its unique role and has been a great benefit to bog turtles, their wetland habitats, and the private landowners who are the ultimate stewards of this trust resource.
From practical solutions (using sheep and goats for grazing away invasive plant species) to the complex (modifying a state highway project), the Maryland Bog Turtle Partnership is ensuring a future for these North American gems.
Only a few thousand bog turtles are still surviving, and this species (Clemmys [Glyptemys] muhlenbergii) is classified as Critically Endangered by the IUCN.
---
Photo credit: Rosie Walunas/USFWS
Comments
comments