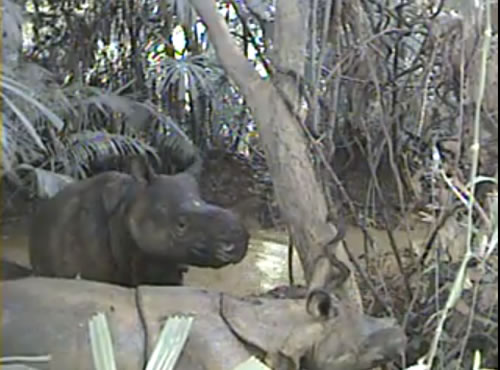 The world's only population of Javan rhinos will now be more closely monitored, thanks to the quadrupling of video camera traps by the International Rhino Foundation (IRF) and WWF.
Critically endangered Javan rhinos in Ujung Kulon National Park, Indonesia, will now be monitored by 160 video cameras.
The Head of Ujung Kulon National Park Office, Moh. Haryono, said in a WWF release that the cameras would be useful for recording other species inside the park.
With the total of 160 video camera traps placed simultanously around the park, we can collect various information, not only on javan rhino but also other wildlife.

The video can even monitor human activities inside Javan rhino habitat in Ujung Kulon. This information serves as an important basis to increase Javan rhino population in Ujung Kulon, which is in line with Indonesia's rhino conservation strategy and action plan.
Thanks to information obtained from video camera traps in 2011, 35 rhinos — 22 males and 13 females — were identified.
Dr. Susie Ellis, Executive Director of IRF, noted that the cameras will help "provide an important step for ensuring the survival of existing Javan rhinos."
Adhi Hariyadi, coordinator of WWF-Indonesia's Rhino Conservation Program, explained that the cameras would be part of a suite of monitoring tools.
By integrating video information gathered from camera trap with DNA based monitoring, we can get a better description of the Javan rhino population, and an even deeper understanding of rhino behaviors.
APP greenwashing continues
Meanwhile, the notorious Asia Pulp & Paper (APP) seems to be continuing its efforts to hoodwink the public with its "public-private partnership" called "The Javan Rhino Conservation Working Group".
Although APP announced last year that it was making a $300,000 donation (over five years) to the Indonesian government on behalf of Javan rhino conservation, Dr. Susie Ellis explained in a Mongabay.com interview that this was most likely another greenwashing attempt.
A relatively small donation (especially in comparison to their billions of dollars in annual revenue) from APP to the Indonesian government does not mean that they play a role in the on-the-ground conservation of this species.

From the NGO perspective, this contribution appears to be truly an attempt to greenwash the company's image.
How to help Javan rhinos
You can help protect critically endangered Javan rhinos by supporting Operation Javan Rhino, a global partnership led by International Rhino Foundation and Save the Rhino International.
Operation Javan Rhino is creating 4,000 hectares of expanded habitat for Javan rhinos in Ujung Kulon, to encourage population growth and establish a second "insurance" population of Javan rhinos at a separate site.
Please visit the International Rhino Foundation's Operation Javan Rhino page to make your donation and learn more.
---
Image via YouTube.
Comments
comments