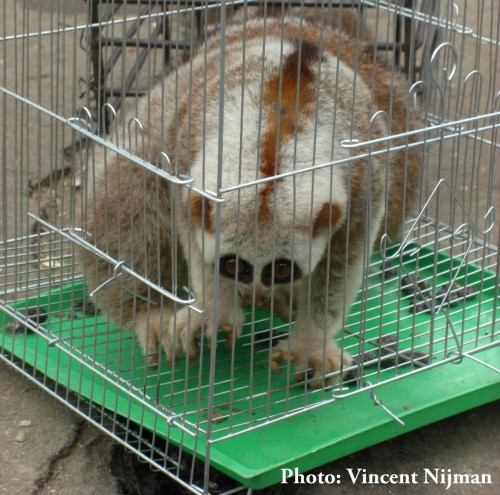 Cambridge, UK, 8 January 2015 — A little-known venomous primate, the Bengal Slow Loris, may be heading towards extinction due to high demand for its body parts in traditional medicine.
Surveys conducted in early 2014 by Oxford Brookes University and TRAFFIC reveals that an alarming number of Bengal Slow Lorises are traded across the border of China and Myanmar — in direct contravention of CITES.
Oxford Brookes's Professor Vincent Nijman said: "Based on all the data collected in the Myanmar border town of Mong La in recent years, we estimate that at least a thousand Bengal Slow Lorises are traded each year in this market town alone and because of the inherent difficulties in conducting research on illegal activities, we expect the true number to be considerably higher."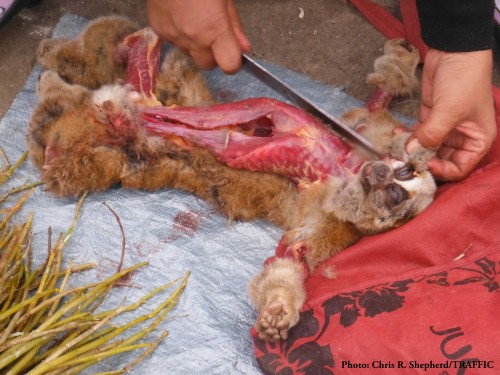 While slow lorises in many parts of Asia are traded as exotic pets, in Mong La the animals were killed, dissected and dried, with the individual body parts, such as the arms, legs, skin and skeleton sold separately as medicine.
"Although international trade in slow lorises is regulated under CITES, enforcement of the regulations is minimal in certain border markets such as Mong La, which seriously undermines the very intentions of the Convention," said Dr Chris R. Shepherd, Regional Director of TRAFFIC in Southeast Asia.
Professor Anna Nekaris, an expert on slow lorises, added: "Our ongoing studies into the diverse slow loris group reveals there are a number of different species within it: this makes the impact of trade on individual species perhaps far more severe than previously supposed."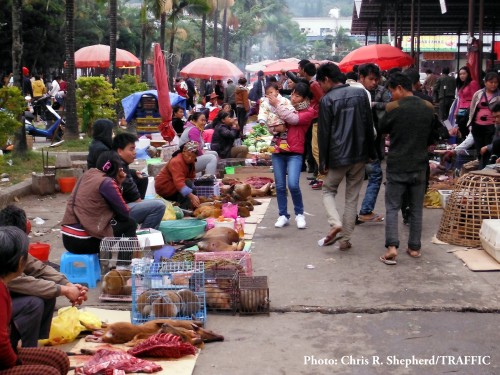 Slow lorises are a group of primates comprising eight species, occurring in South and South-East Asia. They are the only known venomous primates and their bite can lead to severe anaphylactic shock in humans.
The Bengal Slow Loris is a nationally protected species in Myanmar and is listed as Vulnerable on the IUCN Red List of Threatened Species. It is the largest of the lorises, weighing up to two kilogrammes.
Slow lorises are threatened by a combination of habitat loss and over-exploitation, and nowhere is this more apparent than in wildlife markets of Cambodia, Indonesia, Myanmar and southern China.
Trade in Bengal slow lorises in Mong La, Myanmar on the China border by Vincent Nijman, Chris R. Shepherd and K. Anne-Isola Nekaris is published in the open access journal Primate Conservation.
---
Comments
comments