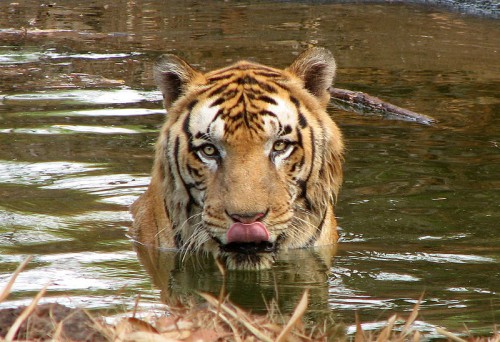 Good news from Nepal: The number of its wild tigers has increased by 63 percent since 2009.
This is the second year in a row that Nepal has reported growth in its tiger population. A March 2012 study carried out by Nepal's Department of National Park and Wildlife Conservation (DNPWC) also found an increasing number of tigers.
While many countries are experiencing an unprecedented assault on wildlife, Nepal's government has demonstrated a real commitment to protecting the country's natural treasures and has implemented strong anti-trafficking measures. Law enforcement is augmented by intelligence, and local communities are supportive of wildlife conservation.
"Tigers are a part of Nepal's natural wealth and we are committed to ensuring these magnificent wild cats have the prey, protection and space to thrive," explains Megh Bahadur Pandey, Director General of Nepal's Department of National Parks and Wildlife Conservation.
According to WWF, Nepal confirmed that wild tigers were found in 12 of the 14 districts in the Terai Arc Landscape, with a total estimate of 198 tigers (range between 163 — 235).
Bardia National Park: 50 tigers (45 — 55) from 18 (17 — 29) in 2009
Shuklaphanta Wildlife Reserve: 17 tigers (13 — 21) from 8 (8 — 14) in 2009
Chitwan National Park: 120 tigers (98 — 139) from 91 (71 — 147) in 2009
While the news is very encouraging, Shubash Lohani, Deputy Director of WWF's Eastern Himalayas program, cautions against complacency.
We cannot afford to forget that wildlife criminals are aggressively preying upon the last of the world's wild tigers and if we allow complacency to creep in, all the conservation gains we applaud today could be gone tomorrow.
In January 2013, Nepal and India announced their decision to conduct the first joint tiger survey in the Terai Arc Landscape, a 600-mile region across the two countries. The full report is expected later in 2013.
Globally, there are only an estimated 3,200 wild tigers still surviving. 100 years ago, there were 100,000 wild tigers. Unfortunately, the illegal trade in tiger parts is thriving. Tiger parts — such as whiskers, claws, and penises — are in demand for Chinese folk remedies, while tiger bone wine is coveted by the wealthy in China, and increasingly in Vietnam.
---
Comments
comments