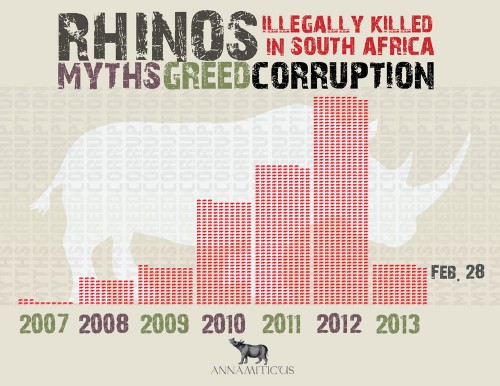 South Africa continues to be the epicenter of the global rhino crisis, with 128 rhinos massacred in the first 58 days of 2013.
92 of the rhinos were killed in world-famous Kruger National Park. Authorities in South Africa have arrested 46 suspects for rhino crimes since the start of the year; however, none are at the "kingpin" level.
South Africa's Department of Environmental Affairs reports that the Minister of Water and Environmental Affairs, Edna Molewa, plans to "engage with China, Thailand, the European Union, the United States and Southern African representatives on the issues of rhino conservation, rhino economics or international trade in rhino horn and possible legislative interventions" during the CITES CoP16 which takes place March 3rd — March 16th in Bangkok, Thailand.
Regarding trade in rhino horn, the Environmental Investigation Agency notes that "the wealthy owners of private rhino farms seeking to cash in on their stockpiled rhino horn" are part of the problem.
All this kind of public debate and speculation does is lead interested parties to anticipate a legalised trade and, ultimately, serve to confuse consumers and so stimulate demand and drive poaching.
Although there is no doubt that the demand for rhino horn is mainly from Vietnam and China, the repeated involvement of South Africa's game industry insiders continues to evade public scrutiny.
See also:
---
Source: environment.gov.za
Comments
comments