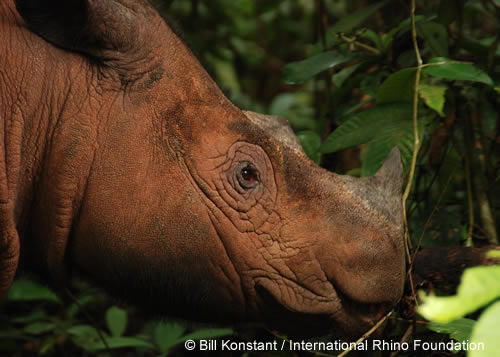 Despite the tragic news that South Africa's rhino death toll reached 633 in mid-December 2012, the year actually marked extraordinary achievements in worldwide rhino conservation.
In addition to the exciting conservation success stories of 2012, critical steps were taken to disrupt and dismantle criminal networks responsible for trafficking rhino horn, and the rhino crisis received unprecedented media coverage.
Here are twelve "good news" stories about rhinos from 2012, in order of occurrence:
#1: 'Rock Center' Rhinos
February 22nd, 2012: NBC's "Rock Center with Brian Williams" did an outstanding job of bringing the rhino crisis to the American TV audience. Prior to this highly anticipated episode, most of America had probably not seen the horrifying images of dead and dying rhinos, which have unfortunately become a regular sight for some of us.
If you are outside the US or missed the rhino segment (or want to watch it again), it is available online here.
We also compiled a few short clips at Horns Up for NBC 'Rock Center' Rhino Crisis Episode.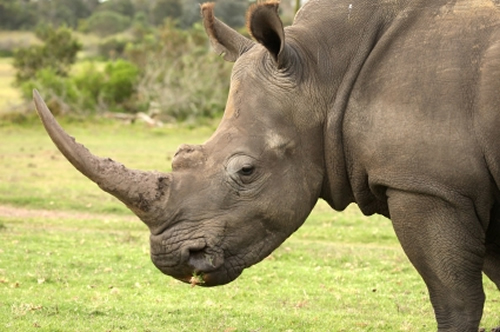 #2: 'Operation Crash'
February 23rd, 2012: Special agents of the U.S. Fish and Wildlife Service (FWS) and U.S. Immigration and Customs Enforcement (ICE) Homeland Security Investigations (HSI) arrested seven suspects and executed search warrants in five different states as part of "Operation Crash," a multi-agency effort to investigate and prosecute those involved in rhino horn trafficking.
Seven people were arrested on charges of rhino horn trafficking in California, New Jersey, and New York.
In this video, USFWS Director Dan Ashe and USFWS Law Enforcement Chief William C. Woody discuss "Operation Crash":
Check out the Update on U.S. Rhino Horn Trafficking Case 'Operation Crash' to learn more.
#3: Antique rhino horn trade restrictions
March 13th, 2012: The European Commission announced a temporary suspension of trade in rhino horn across the EU, which extends to "artistic" items, such as rhino horn libation cups. The suspension is expected to remain in place at least until the end of 2012.
Read more at EU Tightens Restrictions on Rhino Horn Trade.
#4: Awareness campaign in Vietnam
March 14th, 2012: Education for Nature-Vietnam (ENV) — the country's first environmental NGO — kicked off an innovative campaign to reduce demand for rhino horn. This is especially significant because Vietnam is one of Asia's main rhino horn consumer markets.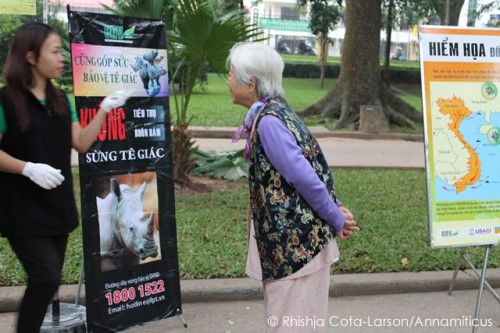 Learn more about the ENV Rhino Campaign at Convincing consumers that killing of rhinos for medicine brings no benefits, only false hope. Connect with Education for Nature-Vietnam on Facebook and Twitter @edu4naturevn.
Listen to an interview with Quyen Vu, founder of ENV, on the Behind the Schemes podcast.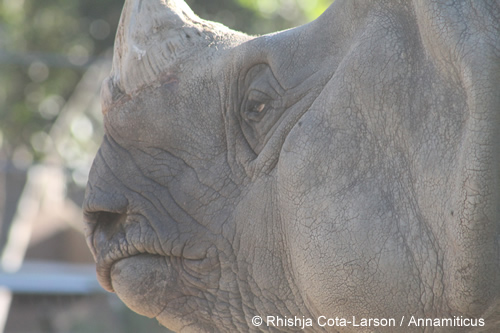 #5: Greater one-horned rhinos on the rise
March 17th, 2012: Orang National Park celebrates the increase of its rhino population to 100 from the previous census in 2009, which found 64 rhinos.
March 22nd, 2012: The rhino census in Pobitora Wildlife Sanctuary counted 93 greater one-horned rhinos — an increase from 84 rhinos in 2009.
April 9th, 2012: The rhino population in Assam's Kaziranga National Park increased to 2290, up from the 2009 census which counted 2048 rhinos.
#6: Javan rhinos on camera
April 23rd, 2012: The world's only population of Javan rhinos will now be more closely monitored, thanks to the quadrupling of video camera traps by the International Rhino Foundation (IRF) and WWF.
Park authorities in Indonesia's Ujung Kulon National Park compiled an incredible video which features footage of more than 30 Javan rhinos — nearly the entire population of this critically endangered species. The footage captures both mothers and calves, providing proof that these rhinos are breeding.
Critically endangered Javan rhinos in Ujung Kulon National Park, Indonesia, will now be monitored by 160 video cameras.
#7: Year of the Rhino
June 5th, 2012: President Susilo Bambang Yudhoyono of Indonesia declared 2012 as the International Year of the Rhino. It is a fitting proclamation, as Indonesia is home to the world's rarest rhino species: Javan and Sumatran rhinos.
Full story at 2012 Declared International Year of the Rhino.
#8: It's a boy!
June 23rd, 2012: History was made at the Sumatran Rhino Sanctuary in Indonesia, where Ratu gave birth to a healthy male calf! With fewer than 200 Sumatran rhinos surviving in Indonesia and Malaysia, this monumental event is one of the most significant advances in the ex situ conservation effort for this critically endangered species. It is the first time a Sumatran rhino has been born in a captive setting in Indonesia.
The calf was named Andatu, which means "Gift from God" in Bahasa, and is also a combination of his parents' names (Ratu and Andalas).
The big moment! Watch Andatu's birth:
Andatu nursing:
At just over six months old, Andatu now weighs nearly 500 pounds! Recent photos can be viewed here.
#9: Trophy hunt loopholes tightened
July 3rd, 2012: The South African Department of Environmental Affairs amended the requirements for issuing trophy hunting permits, in hopes of tightening the loopholes used by "pseudo-hunters" and their South African accomplices to launder rhino horn for the illegal market.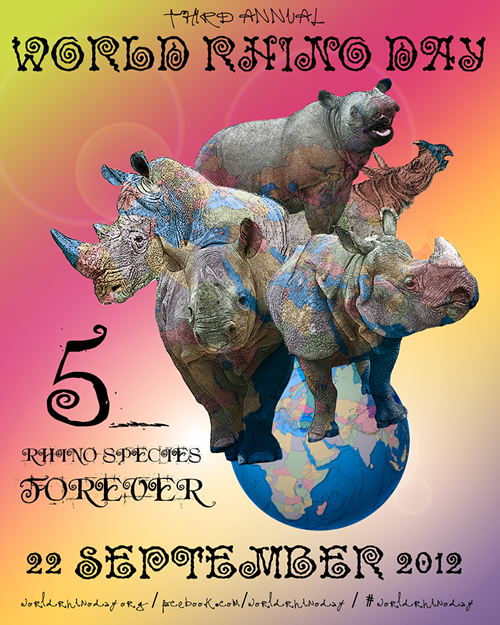 #10: World Rhino Day
On September 22nd, 2012, the third annual World Rhino Day was celebrated, with over a dozen countries participating!
World Rhino Day brought NGOs, zoos, rhino sanctuaries, and concerned citizens across the globe together to raise awareness and funds for the five species of rhinoceros — all of which are under threat from the illegal rhino horn trade.
#11: Book exposes illegal rhino horn trade
November 2012: Killing for Profit: Exposing the Illegal Rhino Horn Trade, written by award-winning investigative journalist Julian Rademeyer, brings scrutiny where it is needed most: Corrupt government agencies and South Africa's dysfunctional wildlife "industry", where some (but certainly not all) of the very people entrusted to protect wildlife are instead unscrupulously manipulating international wildlife trade regulations to line their own pockets.
#12: $5 million to fight wildlife trafficking
December 9th, 2012: Thanks to a grant from Google's Global Impact Awards, WWF will receive $5 million for "conservation drones" and other innovative tools to protect endangered species in Africa and Asia.
WWF will use the "umbrella of technology" grant to develop a global system which will detect traffickers, monitor wildlife, and boost the effectiveness of ranger patrols.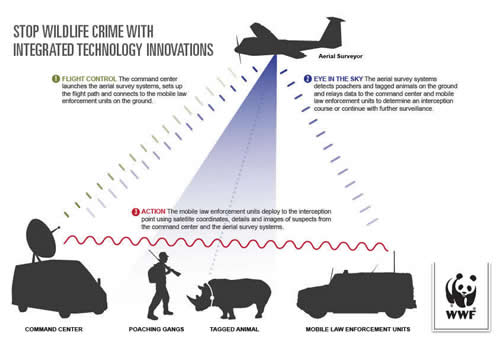 Read the full story at Google Grants $5M to Help Fight Wildlife Trafficking.
Don't forget the good news
Wildlife trafficking is a deplorable criminal enterprise and at times, the bad news can seem overwhelming. But it's important to appreciate the successes and take note of the work being done on a daily basis — on the front lines, behind the scenes and everywhere in between — by people all over the world.
The impact of education and awareness programs may not be seen immediately. Corruption and dirty players won't be rooted out willingly. Changing the situation for the good will take a mighty international effort on the parts of governments, conservation organizations, media, and concerned citizens.
In the meantime, don't forget the good news.
---
Comments
comments