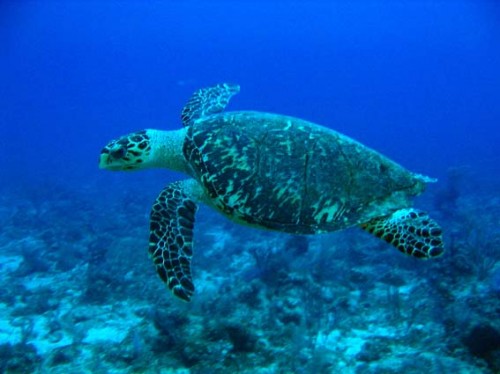 A Vietnamese man has been arrested for trading in endangered sea turtles.
According to Thanh Nien News, police have apprehended 28-year-old Nguyen Ngoc Dong Anh, after discovering 50 slayed sea turtles in his home in the Dong Nai province.
Apparently, the suspect admitted to trading in the endangered animals since last October.
He reportedly also told the officials that he had been sourced the sea turtles from someone in the Mekong Delta, hired people to slaughter and process them, and then sold them both locally and in China.
It seems other suspects have also been summoned for questioning by authorities.
Although the report does not indicate which species the haul was comprised of, three of the world's seven sea turtle species can be found in Vietnam — according to the International Union for the Conservation of Nature (IUCN).
105 sea turtles seized in the Philippines last month
The news follows the arrest of (alleged) sea turtle trader, Utong Gumbahali, in the Philippines only weeks ago.
Inquirer News reported that officials discovered 66 sea turtle carcasses hanging to dry in the Gumbahali's stilted house, which apparently is located on the shoreline in Tawi-Tawi.
Later, when tidal waters had receded, the authorities apparently discovered 39 live sea turtles — critically endangered Hawksbills and endangered Green turtles — trapped in a net under the suspect's house, bringing the total number of turtles confiscated to 105.
Fortunately, the report says the live turtles were tagged and returned to the ocean.
Gumbahali was purportedly trafficking the turtle through Malaysia and is currently in custody, facing charges for contravening the national Wildlife Act.
Sea Turtles in crisis
The poaching of adults, juveniles, hatchlings, and even eggs poses a significant threat to all seven sea turtle species and is an ongoing problem around the globe.
Other threats to their existence include the loss and degradation of nesting beach and nearshore habitats, the effects of global climate change, some fisheries methods, ocean acidification, oil spills, pollution, and ship traffic.
Unfortunately, because sea turtle sex is determined by the temperature of the nest their eggs are kept in (like other reptiles), there is increasing concern about how earth's rising surface temperatures may be contributing to the animals' decline.
Today, all seven species are considered threatened or endangered.
Thankfully in Vietnam, local NGO, Education for Nature Vietnam (ENV), is working tirelessly to combat the illegal wildlife trade in their country — including that of sea turtles — through their spectacular education and community outreach programs.
You can help by supporting ENV's work!
Please visit their website to donate or to learn more: www.envietnam.org
---
Image by "Hoffryan" via Wikimedia Commons
Comments
comments