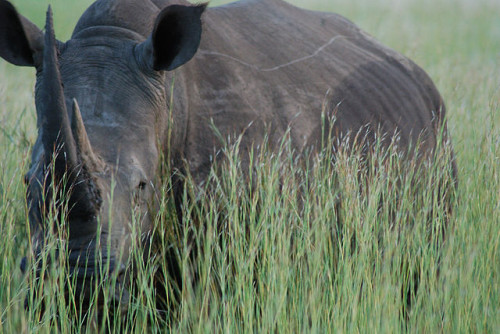 The Kingdom of Swaziland has submitted a last-minute rhino horn trade proposal for consideration at the upcoming Conference of the Parties to CITES, to be held in South Africa this September.
Swaziland's proposal refers to its population of Southern white rhinos (Ceratotherium simum simum), which is currently listed on CITES Appendix II (Swaziland and South Africa only; this species is protected by Appendix I in its other range states). The country is seeking approval to sell its stockpile of white rhino horn as well as "harvest" rhino horns from a "limited number" of white rhinos. Swaziland is home to 73 white rhinos.
"This proposal is for Swaziland to sell existing stocks of some 330 kg to a small number of licenced retailers in the Far East and also to sell harvested horn, at the rate of 20 kg p.a., to those retailers. The proceeds from the sale of stocks will raise approximately $9.9 million at a wholesale price of $30,000 per kg."
The proposal states, "Swaziland was expecting South Africa to submit a rhino horn trade proposal to CoP17 and was ready to support it. However, Swaziland was informed on 21st April, 2016 that this was not going to happen. That decision gave rise to this proposal by Swaziland at the 11th hour."
Swaziland notes in its proposal that a meeting of the Southern African Development Community (SADC) Parties was held in April 2016 "to draft a common position on issues for CITES CoP17" and that of the twelve countries represented at the meeting, all but one were in favor of submitting a rhino horn trade proposal. The one country was Botswana, which said it was "premature" to propose rhino horn trade at COP17.
Although Swaziland says its rhino horn would be sold "directly to a small number of licenced retailers, which is likely to include Traditional Chinese Medicine Hospitals, in the Far East provided that CITES agrees to the trade and approves Swaziland's trade partners", all international trade in rhino horn is illegal. At this time, no countries have expressed interest (publicly) in violating international law.
Swaziland's rhino horn trade proposal comes less than a year after its controversial sale of 18 of its elephants to three American zoos for $450,000 in order to help fund the country's rhino conservation efforts (roomforrhinos.org).
---
Comments
comments