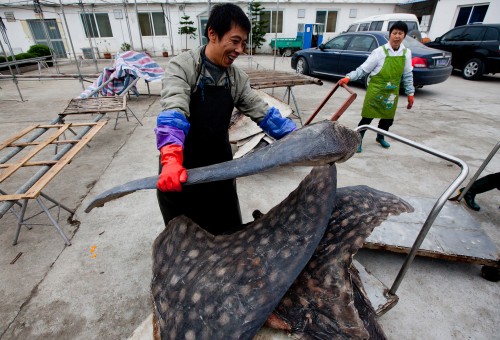 The investigators who uncovered the "world's largest shark slaughterhouse" in China have revealed that the gruesome processing plant is linked to at least one company in the United States.
When Alex Hofford and Paul Hilton of Hong Kong-based WildLifeRisk unearthed the disturbing story behind China Wenzhou Yueqing Marine Organisms Health Protection Foods Co Ltd, they learned that the factory's "real money-maker" is the shark's liver. Oil from the liver is extracted for skin care products and Omega-3 health supplements. In addition to whale sharks, liver oil from great white and basking sharks is processed at the PuQi plant. All three are CITES Appendix II protected species.
In order to get deep inside the processing plant, Hofford and Hilton created a cover for themselves as representatives from a seafood trading company — complete with a website and business cards. They told factory manager Li Guang that they were interested in the "health product" market, for Western consumers.
During their first meeting, Mr. Li took the two "businessmen" on a tour of the processing plant. He showed them barrels of shark oil being stored in what Alex Hofford describes as a "ramshackle outhouse".
"We went into this filthy shack, this ramshackle outhouse, where he stores all the oil in these big blue barrels. He had barrels and barrels of this stuff. [It was] a stinking, pretty unsanitary place."
In WildLifeRisk's undercover footage, Mr. Li explains that if oil from whale sharks and oil from basking sharks are mixed with oil from blue sharks, the concoction can yield two hundred tons of shark oil per year. He says in the footage that it is called "fish liver oil" for export, and told WildLifeRisk that it is labeled as "tilapia" on international export documents.
China Whale Sharks from WildLifeRisk on Vimeo.
Hofford and Hilton discovered that the shark liver oil is sent to Hainan Jiahua Marine Products Bio-Pharmaceutical Co Ltd, which is another processing plant in China. A closer look at Jiahua Marine Products reveals that the Hainan company was a subsidiary of Seattle-based HQ Sustainable Maritime Industries, Inc. (NYSE Amex: HQS).
However, HQ Sustainable Maritime Industries Inc. ("a leading producer of functional, sustainable Tilapia biomass, including fish and personal healthcare products") collapsed in 2011 amid an accounting fraud scandal and formal investigation by the Securities and Exchange Commission (SEC). The Seattle Times reported that auditors became suspicious when they were unable to reach any of the company's "major customers", citing disconnected phone numbers, invalid phone numbers, unanswered calls — and then encountered substantial obstacles when "attempting to verify the cash balances at HQ's Chinese bank".
It was also reported at the time that HQ Maritime's CEO, Norbert Sporns, was selling the company's "Omojo-brand beauty aids online" from a Burlington, Washington, office. Indeed, bills of lading dated September 10, December 2, and December 18, 2011, show that Omojo Health USA received shipments from Hainan Jiahua Marine Products Bio-Pharmaceutical Co Ltd.
WildLifeRisk investigators went to the Hainan Jiahua Marine Products Bio-Pharmaceutical Co Ltd factory and found that it is still operating. And so is Omojo Health USA. In fact, these products on the Omojo website list shark liver oil (squalene) as an ingredient:
Intensive Treatment Anti-Oxidant Serum
Intensive Treatment Gel Caps
Omega 3, 6, 9 Shark Oil Formula
The possibility that shark oil products manufactured by Hainan Jiahua Marine Products Bio-Pharmaceutical Co Ltd are reaching U.S. consumers is troubling. Mr. Li told investigators that his factory exports products to the U.S., as well as Europe. DNA testing from shark oil samples collected from the PuQi factory — which sends oil to the Hainan plant — confirmed 100% basking shark and 100% great white shark. Both are protected species. Not only is this in contravention of CITES, but the questionable processing practices documented by WildLifeRisk could be jeopardizing the health of unsuspecting consumers.
I contacted the CEO of Omojo Health USA, Norbert Sporns, regarding a connection between his company and the shark processing plant in China. Mr. Sporns said via email that his company's products are "subject to USDA veterinarian certification for species, FDA tested for heavy metals (whale shark would have off the charts heavy metals issues), GMP certified for consistency. DNA and heavy metal analysis confirm our species choices. The Blue Shark we use is a deep water by-catch of the Tuna fishery. Encouraging fishermen to land their by-catch is a first step to understanding this essential fishery and allow meaningful conservation."
Follow this developing story @WildLifeRisk

---
Comments
comments