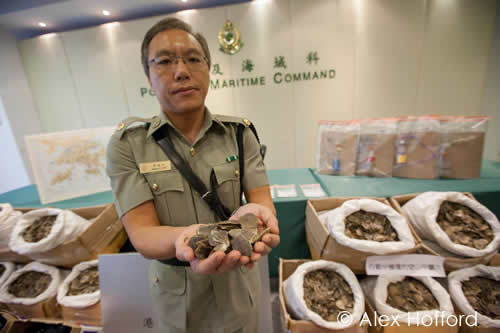 Hong Kong Customs foiled a pangolin smuggling operation on October 30, 2013, when a "suspicious" fishing vessel was observed leaving the port of Tap Shek Kok. Officers gave chase and intercepted the vessel near the island of Sha Chau.
In addition to 320 kilograms of pangolin scales, the illicit cargo consisted of 442 handheld game consoles, 2,119 mobile phones, and a "small quantity" of methamphetamine and methamphetamine inhalation apparatuses.
Two suspects — the coxswain and a crewman — were arrested.
According to photojournalist Alex Hofford, who attended the press briefing in Kwai Chung (and graciously allowed us to use his photos), the shipment was en route from Africa to China.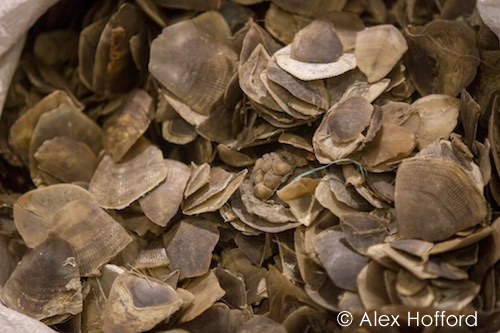 Pangolin scales are in high demand in China, were they are unfortunately used in traditional Chinese medicine. There are no health benefits to consuming pangolin scales, which are comprised of keratin — the same as human fingernails, rhino horns, and horse hooves.
Between 2011 and October 2013, an estimated 105,410 — 210,820 pangolins were victims of the illegal trade.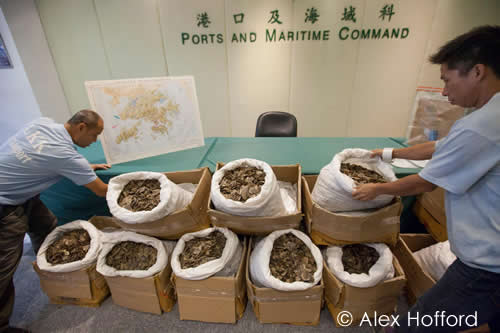 The Hong Kong Customs and Excise Department notes the following:
Under the Protection of Endangered Species of Animals and Plants Ordinance, any person found guilty of trading endangered species for commercial purposes is liable to a maximum fine of $5 million and imprisonment for two years.
Under the Dangerous Drugs Ordinance, the possession of drugs is a serious offence. The maximum penalty is up to imprisonment for seven years and a fine of $1 million.
Under the Import and Export Ordinance, any person found guilty of exporting unmanifested cargo is liable to a maximum fine of $2 million and imprisonment for seven years.
Suspected smuggling activities can be reported to Hong Kong Customs through the 24-hour hotline 2545 6182.
---
Source: Hong Kong Customs and Excise Department
Comments
comments