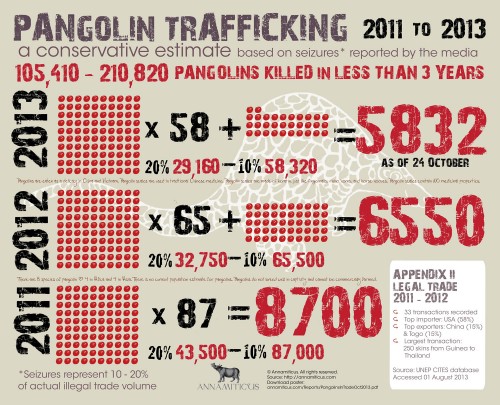 During the months of August through October 2013, at least 2,804 pangolins were recorded in 15 pangolin trafficking incidents across seven countries. This conservative figure represents both live and dead pangolins, as well as pangolin scales, destined for the illegal trade.
Of the grisly total, 2,364 pangolins were represented by seizures (pangolins and scales) in Vietnam, where the environmental police have been working hard to step up their game. However, sensitization of the country's judicial system to wildlife crime still needs considerable improvement.
Considering that seizures represent a mere ten to twenty percent of actual trafficking volume, these figures suggest that an estimated 105,410 — 210,820 pangolins have been plundered from the wild in Asia and Africa since 2011 — all because of myths about alleged health benefits of consuming pangolin scales and pangolin flesh.
On October 22, 49 live pangolins were discovered when traffic police on National Highway 1 in Phu Yen's Dong Hoa District "chased a suspicious ambulance" (plate 57M-9017) which turned out to be smuggling the animals. Tuoi Tre News identified the driver as Le Van Tung from central Nghe An Province, who claimed that he had been hired to transport the pangolins from Ho Chi Minh City to "a northern province".
The haul included both baby and adult pangolins, weighing from one to 10.4 kg each, for a total of 256 kilograms. All of the pangolins were in poor health. Vietnam's Carnivore and Pangolin Conservation Program notes that the pangolins were supposed to be transferred to the Cu Chi Wildlife Rescue Station, but instead, the provincial People's Committee used a loophole in the law to allow the pangolins to be "sold to qualified wildlife breeding centers" — meaning that the pangolins will be sold right back into the illegal trade.
Less than a week earlier, on October 18, intelligence reports led Vietnamese Customs to uncover a pangolin trafficking case in Hai Phong City. Vietnamese NGO Education for Nature-Vietnam (ENV) reports that the Customs Inspection Team found nearly six tons of descaled pangolins, packed in cartons next to frozen snappers.
Nehanda Radio in Zimbabwe reported on October 7 that one live pangolin was rescued from a man identified as Tatenda Gunguwo, who intended to present the animal to President Robert Mugabe. A spokesperson for Zimbabwe Parks and Wildlife Management Authority said that the pangolin would be treated with antibiotics and then released.
In Uganda, two Chinese nationals carrying pangolin scales and ivory (bangles, necklaces, and "decorations") were detained at Entebbe International Airport on October 1. The one-and-a-half cups (weight unknown) of pangolin scales were hidden inside the socks of one of the suspects.
On October 4, Education for Nature-Vietnam reported that while checking "suspicious parcels of frozen food", the Customs Inspections Team at Hai Phong City discovered 3,040 kilograms of descaled whole pangolins, plus 990 kilograms of pangolin scales mixed with frozen squid and dried seahorses.
ENV also reported on September 30 that authorities in Quang Ninh Province (which shares a border with China) uncovered 261 kilograms of live pangolins during a traffic stop. The suspects apparently fled and the pangolins were confiscated.
Fourteen Chinese nationals were arrested in Gabon with pangolin scales (weight unknown), elephant ivory, and Bongo antelope horns. Five of the men were timber buyers from China; nine were forestry workers. At the time of their arrest at a forestry camp, the traffickers were "feasting on elephant trunks", according to Gabon News on September 29.
In Thailand's northeast Udon Thani province, police seized nearly 200 pangolins on September 16. The pangolins were discovered in two pickup trucks, while the drivers managed to flee. It is believed the pangolins were destined for China or Vietnam, via Laos. According to AsiaOne, the pangolins were to be released in a nearby Thai national park.
Five people were apprehended in Kathamandu, thanks to a tip-off that led to an 8:00 am police raid on Sunday, September 8. The suspects were in possession of 16 kg of pangolin scales. One of the suspects was identified as Rajendra Ale Magar of Ghartichhap-5, Kavre District.
On September 1, 2013, police in Khon Kaen, Thailand, seized 102 pangolins from a pickup truck owned by Pornchai Sangsila, a native of Samut Songkhram. The live pangolins were discovered during a routine police inspection at PTT petrol station on the inbound lane of Mittraparb Road. A "strong stench" was apparently coming from the pickup truck, which "looked suspicious as it was abandoned in a dark area on the station grounds".
Just one day prior, a suspect identified as CK Thanga was arrested in Mizoram, India, with 80 kg of pangolin scales.
After killing a Chinese pangolin and attempting to hide 300 grams of scales in his backyard, Sujaya Tamang was arrested in Lamatar, Nepal. The scales were found during an August 14 raid following intelligence reports. Such a small amount of scales strongly suggests that this pangolin was not yet fully grown.
During the week of August 4, customs officials in the Vietnamese port city of Hai Phong seized 6.2 tonnes (nearly 7 tons) of pangolins from a 40-foot cargo container shipped from Indonesia.
This horrifying haul may have contained more than 800 pangolins — which were said to be still alive when they were found. Listed on the customs declaration as the importer is Long Thanh Trading, Investment and Development Company, headquartered in the city of Mong Cai, in northern Quang Ninh province.
In Karnataka, India, a suspect identified as Dadapeer was arrested on August 12with 25 kilograms of pangolin scales. Dadapeer and his accomplices are believed to have sourced the scales "from traditional snake catchers from Shimoga and other places" in order to sell them to an "agent in Chennai, who exported them to China and other countries", according to the Deccan Herald.
The Times of India reported on August 6 that 70 kilograms of pangolin scales were seized and seven suspects were arrested in Debidanga, indicating that the Siliguri corridor continues to be the "most preferred route" for wildlife traffickers. Forest department officials learned that the scales were obtained in Haryana, and the plan was to smuggle the contraband to China via Nepal.
The suspects were identified as Bhachand Dhabi from Haryana, M Udhaya Kumar from Chennai, Amrit K Rana from Nagaland, Jac Rangrang from Manipur, and Shyam Bihari Mahato from Siliguri. Ganesh Ghimira and Dakchaya Birbahadur Rai had come to India to guide the gang to Nepal.
But there is encouraging news from Zimbabwe: A pangolin trafficker identified as Mr. Danisa Mloyi was prosecuted to the full extent of the law, receiving an unprecedented nine-year prison term.
Mloyi was sentenced under Chapter 20:14 Parks and Wildlife Act of Zimbabwe, Section 45 and Section 128 on October 14, 2013 — thanks to Magistrate Mr. C. Chiruma, Public Prosecutor Mr. M. Mhene, and the Gokwe ZRP.
"Zimbabwe, together with other African countries, has seen an alarming increase in the pangolin poaching," says Lisa Hywood, founder of Tikki Hywood Trust in Zimbabwe and Co-chair of the IUCN-SSC Pangolin Specialist Group. Tikki Hywood Trust has seen the number of pangolins recovered from the illegal trade go from zero in 2009 to 18 as of October 2012, and is one of the few organizations to successfully rehabilitate and return confiscated pangolins to the wild.
Help us educate the public about pangolins by sharing this article and supporting our work by making a secure online donation or buying a pangolin t-shirt (or both!).
Download the Pangolin Trafficking poster.
New to pangolins? Watch and share our "Meet the Pangolin" video:
---
Comments
comments