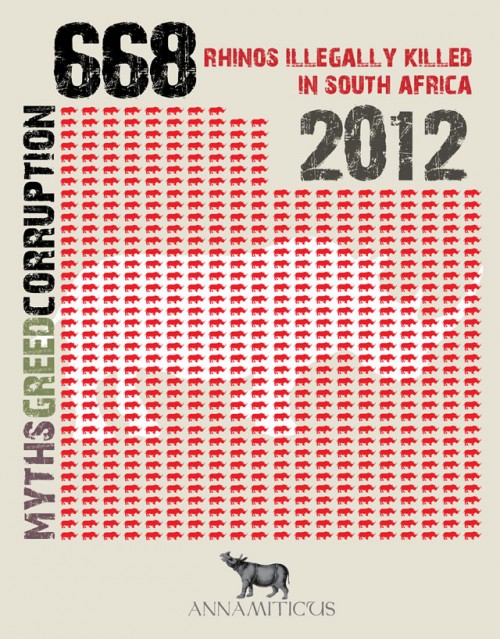 A total of 668 rhinos were massacred in South Africa in 2012, according to the latest figures released by the Department of Environmental Affairs.
Kruger National Park suffered a staggering loss of 425 rhinos. The North West, Limpopo, and KwaZulu-Natal provinces were hit hard, losing 77, 66 and 59 rhinos. 267 suspects were arrested in the country for rhino crimes.
The wildlife trade monitoring network TRAFFIC identified Vietnam as the primary destination for illegal rhino horn, where it "is in demand as a supposed 'miracle medicine', despite a lack of supporting medical evidence". Traffickers also managed to export at least 657 rhino horns legally during 2003 — 2010, thanks to some of South Africa's safari operators who facilitated bogus trophy hunts with Vietnamese nationals.
A Memorandum of Understanding (MoU) between the governments of South Africa and Vietnam was signed On December 10th, 2012, at a ceremony in Hanoi, in hopes of reducing the flow of illicit wildlife — especially rhino horns.
On January 6th, 2013, Authorities in Thailand and Vietnam arrested two rhino horn smugglers and confiscated ten rhino horns in two separate incidents. Both suspects are Vietnamese nationals.
See also:
---
Comments
comments