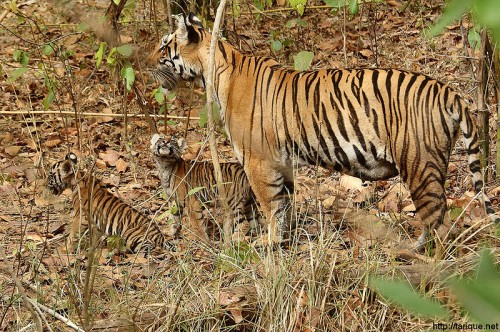 The indigenous Tharu tribe living next to Suhelwa Wildlife Sanctuary in Uttar Pradesh will play a pivotal role in protecting tigers, thanks to a joint initiative between forest officials and local conservationists.
Located near India's border with Nepal, Suhelwa is under constant threat from wildlife traffickers who target the big cats and smuggle their parts into neighboring China. However, members of the Tharu community posted at key checkpoints will provide intelligence for combating wildlife crime in the region.
Rajiv Chauhan from Society for Conservation of Nature, told the Times of India that his organization plans to coordinate several village events with the team at Suhelwa Wildlife Sanctuary, which will emphasize "why the forests and tigers or other wild animals need to be protected".
These include plantation programmes, conservation rallies and nature games for children of the community who would also be made aware of the importance of nature and wildlife conservation. Film shows on wildlife and nature conservation will be conducted apart from other activities like painting competitions and quiz[zes].
Enforcement in the area also received a boost from TRAFFIC. In July 2012, the Sashastra Seema Bal (SSB) and TRAFFIC India conducted a two-day workshop "Strengthening Wildlife Law Enforcement and Conservation Along Borders", attended by forest officials from Balrampur, Saravasti, Maharajgunj and Suhelwa Wildlife Sanctuary.
There are six more workshops planned under the SSB collaboration with TRAFFIC, which will focus on India's borders with Nepal and Bhutan.
---
Image by Wikigringo via Wikimedia Commons
Comments
comments