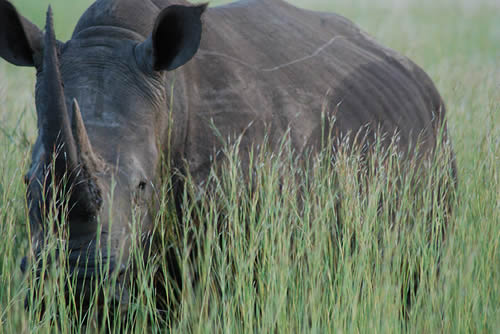 South Africa has not submitted a legal rhino horn trade proposal for the upcoming CITES CoP16.
The first provisional list of proposals for amendment of Appendices I and II has been posted by CITES, and legal rhino horn trade in South Africa is not included. Department of Environmental Affairs spokesman Albi Modise said via BDLive that South Africa's "submission to CITES for the March 2013 meeting would not contain anything on rhinos."
WWF South Africa's CEO, Dr. Morné du Plessis, also told BDLive this week that the demand for rhino horn in Vietnam could be "terminated without resorting to trade", since the market there is relatively new.
Dr. du Plessis had previously pointed out in 2010 that "the recent string of high-profile arrests shows that people within the private game farming industry are involved in poaching. The issue is, therefore, a little more complicated than simply legalising the trade in rhino horn."
At CITES CoP 10 in 1997, South Africa did submit a proposal for a legal rhino horn trade, claiming that such a trade would "generate funds for conservation and reduce incentives for illegal trade."
However, the scheme failed to gain the required two-thirds majority vote and was rejected, due to a lack of "adequate control mechanisms" for a legal trade.
Although supporters of a legal rhino horn trade claim that it is a solution, it is worth mentioning that South Africa's 1997 proposal was made at a time when illegal killing numbers had declined to single digits and continental rhino populations were rising.
Few, if any, wildlife trade experts support the view that a legal rhino horn trade in South Africa would solve the country's rhino crisis — which has already claimed the lives of at least 430 rhinos.
Renowned rhino horn and ivory trade expert Dr. Tom Milliken of the wildlife trade monitoring network TRAFFIC told Thanh Nien Daily in 2011 that he disagrees with South African game farmers lobbying for "legal trade" in rhino horn and pointed out there is no one to "negotiate" with – except criminal syndicates.
I do not agree with the views of the farmers who only seem to be looking at this issue from the viewpoint of a supply they think they can offer. None of them are talking to the governments on the consumption side of the equation and all of those countries, including China, Vietnam and Thailand, have internal trade bans in place.

So who do they negotiate with – the criminal syndicates driving the illegal trade now?
And on a 2012 episode of Rock Center with Brian Williams, Dr. Milliken told Harry Smith that legalizing trade in rhino horn is not a solution:
Visit msnbc.com for breaking news, world news, and news about the economy
WildAid's Steve Trent said in a 2011 interview with The Ecologist that farming rhinos for their horns is "clinically insane."
You'd have to be clinically insane to be promoting that. Virtually any endangered animal will have a trade in its parts, and a legal trade will operate as a cover for an illegal trade. More than that, having these kinds of farms stimulates demand.
Trent added that "so-called tiger farms are a nonsense" and "if you set up sustainable use that allows trade, there will be an illegal component."
Mary Rice, Executive Director of the Environmental Investigation Agency (EIA) wrote in her article After ivory, a legal rhino horn trade will only cause harm that "Opening up trade has demonstrably not worked for elephants. Who could be so naïve or so willfully blind as to imagine it will work for rhinos?"
It is interesting to note that one commenter replied that game farmers are "victims", to which EIA responded, "Game farmers are only victims insofar as they are not allowed to cash in further on this highly endangered species. Bear in mind that the original aim of these ranches was to rescue the rhino — strongly suggesting a conservation initiative which has been successful but has now created a monster in pursuit of the money."
---
Image: iStockphoto.com
Comments
comments