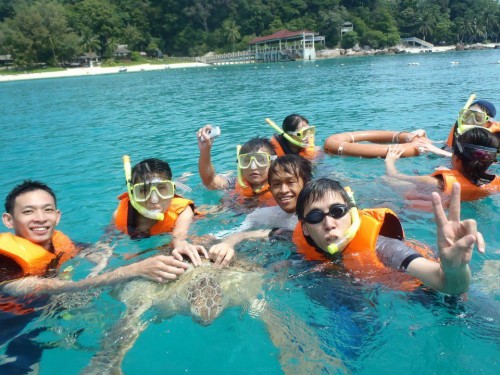 Disturbing videos and photos posted by Malaysian tour operator Perhentian Setia Travel & Tours Sdn Bhd show a group of snorkelers violating the law by harassing a protected sea turtle.
These actions contravene Section 27 of the Fisheries Act 1985 which states that "No person shall fish for, disturb, harass, catch or take any aquatic mammal or turtle which is found beyond the jurisdiction of any State in Malaysia." Anyone found guilty can be fined up to RM5000 (US $1599).
WWF-Malaysia issued a statement saying that the enforcement agencies have been contacted and provided with the "relevant video and pictures related to the incident for their investigation and further action".
The video and pictures show a distressed turtle that was brought up to the surface, manhandled, restrained and rode upon for the snorkelers' delight.
The Malaysian organization Rimba posted a video of the incident:
You can help alert others of this irresponsible behavior by sharing the photo via the Rimba Facebook page.
The public is asked to contact WWF-Malaysia, as well as the Department of Fisheries (abkhalil@dof.gov.my, chekley@dof.gov.my) and Department of Marine Parks (fariha@nre.gov.my) to report any future issues regarding marine turtles.
---
Photo via the Rimba Facebook page.
Comments
comments