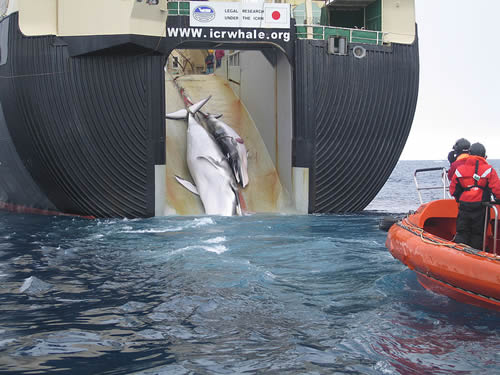 A new report released by the Environmental Investigation Agency (EIA) has revealed that Yahoo! Inc. is profiting from trade in products derived from endangered and threatened whales and dolphins.
The internet giant's Japanese subsidiary, Yahoo! Japan, allows whale and dolphin product retailers to peddle their wares utilizing fee-based services on Yahoo! stores and auction sites — which translates into profits for Yahoo! Inc. via its 34.75 share of Yahoo! Japan.
Research conducted by EIA found 249 whale products for sale on Yahoo! Japan in March 2012.
Many products had originated from fin, sei, minke, sperm, and Bryde's whales — species that are protected by CITES and the International Whaling Commission (IWC).
Yahoo! Japan was also selling products derived from small cetaceans, such as Baird's beaked whales and pilot whales.
Other products had originated from Taiji, made famous by The Cove documentary.
Sixteen products were labelled as originating from Taiji or Wakayama, where the infamous dolphin and whale drive hunts exposed in The Cove take place.
Labeling laws in Japan require that the common name of the species be listed on the product; however, this information was not included on 34 products, including those from Taiji.
EIA believes "it is highly likely that at least some of the 16 products labelled as originating from Taiji are dolphin products, given that hundreds of dolphins are killed there each year".
In addition, several cetacean products purchased via Yahoo! Japan were found to exceed Japanese national limits for mercury concentration, by an average of 3.5 times higher.
The most polluted sample was dried pilot whale, which had a mercury concentration of 6.5ppm, more than 16 times higher than the Japanese regulatory limit.
DNA analysis revealed further labeling issues with the purchases. For example, southern ocean minke whale was being sold as "fin whale bacon from Iceland" and Risso's dolphin was labelled as pilot whale bacon.
As Yahoo! directly profits from Yahoo! Japan"s sales of whale and dolphin products, it is responsible not only for facilitating the sale of products from endangered and protected species but also for allowing the sale of mislabelled food products which are highly contaminated with mercury and a potential health threat to the people consuming them.
EIA recommends that Yahoo! Inc. urge Yahoo! Japan to "end all sales of whale and dolphin products, using the full powers of its large shareholding in its Japanese subsidiary".
Members of the public are also encouraged to take action by letting Yahoo! Inc. and CEO Ross Levinson know that it is unacceptable to profit from the slaughter of whales. Visit EIA's "Tell Yahoo! to stop selling whale meat" page to learn more.
---
Source: Environmental Investigation Agency (2012). Killing for Commerce: Yahoo! Fails to stop the sale of endangered and threatened whales & dolphins. London, UK.
Image by Australian Customs and Border Protection Service, via Wikimedia Commons
Comments
comments